Regular price
Sale price
$37.95
Unit price
per
Sale
Sold out
Spathoglottis 'Far Out Freckles'
Overview
Uses: Houseplant, patio plant, or outdoor plant (in approved tropical zones)
Benefits: Almost constant, long-lasting blooms! Very rare! Unique and beautiful growth patterns, colors, and evergreen foliage. Easy to take care of. 
Zones: 10 - 11 (as an outdoor perennial)
Sun: Full sun to light shade
Life Cycle: Perennial
Mature Height: 18" - 30"
Mature Width: 10" - 15" 
Bloom Season: Will bloom relatively non-stop once mature (8+ months old).
Summary 
An almost constant explosion of yellow and purple blooms! 
Spathoglottis 'Far Out Freckles' is a ground orchid best known for its unique and eye-catching purplish-yellow blooms which accentuate its evergreen foliage. 
It's the perfect houseplant and patio plant for a variety of locations. It's also a great outdoor plant when grown in an appropriate tropical zone. 
Care
Ground Orchid Care
Be sure to give your spathoglottis somewhere between full sun and partial shade. Not enough light will cause growth issues. 
This is a tropical plant and it loves moisture! Humidifiers, misters, and pebble beds may be used to supplement humidity. 
Attempt to keep its soil moist but not wet. It's also suggested that the soil be well draining. 
Ideal temperature range is 70°F - 95°F. Exposure to 50°F or cooler for prolonged periods of time will cause damage. Frost will kill this plant.
Orchids are known to be heavy feeders so fertilization is suggested. Our slow release fertilizer is a great option.  
Size
Size of Spathoglottis for Sale Online
The 'Far out Freckles' Ground Orchid that we sell online will ship in a greenhouse grade grow pot. Each plant will be appropriately sized for its pot. Please contact us with any specific questions.
How Large Do Spathoglottis Grow?
'Far out Freckles' Ground Orchid typically grow to a mature height of 18" to 30" and a width of around 10" to 15". 
Additional Information
What is the Botanical Name of 'Far out Freckles' Ground Orchid?
Its botanical name is Spathoglottis 'Far Out Freckles'.
Toxicity and Risks of 
'Far out Freckles' Ground Orchid
We were unable to find much information regarding the toxic risk associated with s
pathoglottis. As such, we suggest treating it with a moderate degree of caution, and not allowing children or pets free access to it.
Share
View full details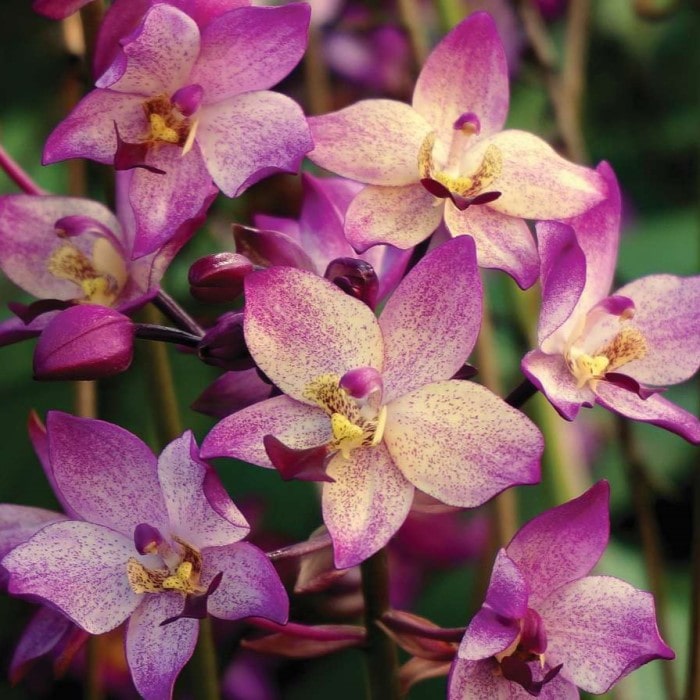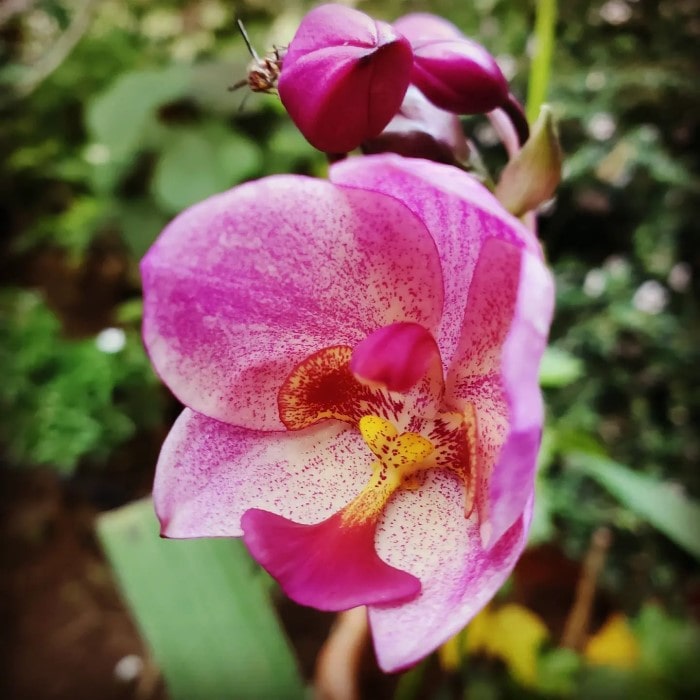 From Almanac, With Care...
The Almanac Planting Co Difference

We're a small, woman-owned startup with a deep focus on product quality and customer satisfaction. You can find off-site, third-party reviews about us on our Etsy store.
Shipping Details

Free shipping on orders over $199*! We normally only ship our live plants on Mondays, Tuesdays, and Wednesdays to help prevent weekend layovers. There is a processing period of up to three days on any order placed. Please check out our shipping policy or contact us with any other questions.