Regular price
Sale price
$23.95
Unit price
per
Sale
Sold out
Carex 'Feather Falls™' ('ET CRX01' PP26199)
Overview
Uses: A variegated perennial ornamental grass. Perfect for gardens, and containers! 
Benefits: Evergreen, glossy green foliage with creamy white accents! Dense, fountain like growth habit! Higher tolerance for sun and cold than many other sedges! Fast growing! 
Zones: 5 - 9
Sun: Partial sun to partial shade
Life Cycle: Perennial
Mature Height: 12" - 18"
Mature Width: 18" - 24"
Bloom Season: Late Summer
Summary
Carex 'Feather Falls™'—commonly called Variegated Sedge 'Feather Falls', and Feather Falls Sedge—is an extremely trendy and beautiful cold-hardy variety of ornamental grass (it's technically a sedge since its leaves are triangular, but it's frequently referred to as an "ornamental grass"). 
Feather Falls Variegated Sedge is relatively new to the American plant space, and it's quickly becoming a favorite! Growers love it for its vigor, eye-catching colors, and its bold, cascading, fountain-like, arching growth habit! 
Carex 'Feather Falls™' was originally bred in Europe as a cross of Carex hybrida parents.

Absolutely excellent as a container pot for garden accents, walkways, patios, and covered spaces (due to its shade tolerance)! 

Great for ground planting for use as a border plant! Space 18" apart for use as a tall groundcover! Plant on steep banks for erosion control! Plant groups of 3 or more 3' - 6' apart to create an attractive landscaping bed! 
Tolerant of sun and shade more than most other sedges! 
Fast growing! 
Care
Variegated Sedge Care
Carex 'Feather Falls™' is extremely low maintenance and easy to care for. 
Fertilizations will accelerate growth and keep your plant well fed. We suggest using our slow release fertilizer, or something similar.
Water regularly after planting and throughout its first year of establishment, or in periods of drought. This plant is not considered drought tolerant, and its ideal soil is moist, rich, and well draining. 
It may be cut back it it becomes too large, or falls over. It's suggested to cut back this sedge to the ground in late winter or early spring. Leave at least 2" of foliage when cutting back. 
Feather Falls Sedge does best when grown in a partially shaded area (4-6 hours of sunlight a day), although we've heard success stories of growth in full sun areas. In our experience, northern growers will have better luck in sunnier locations, and southern growers will have better luck in shadier locations. Southern growers should not place this plant in an area that gets strong, afternoon sun.
Size
Size of Variegated Sedge for Sale Online
The Carex 'Feather Falls™' that we sell online will ship in a greenhouse grade grow pot. Each plant will be appropriately sized for its pot. Please contact us with any specific questions.
Size of Variegated Sedge When Fully Grown
Carex 'Feather Falls™' typically grows to a fully mature height of 12" to 18" and a width of 18" to 24". 
Additional Information
Common Names of Carex 'Feather Falls™'
Feather Falls Carex

Feather Falls Sedge


Variegated Sedge Feather Falls

Feather Falls Variegated Sedge 
Toxicity and Risks of Variegated Sedge
We were unable to find too much information on the toxicity of Carex 'Feather Falls™'
Share
View full details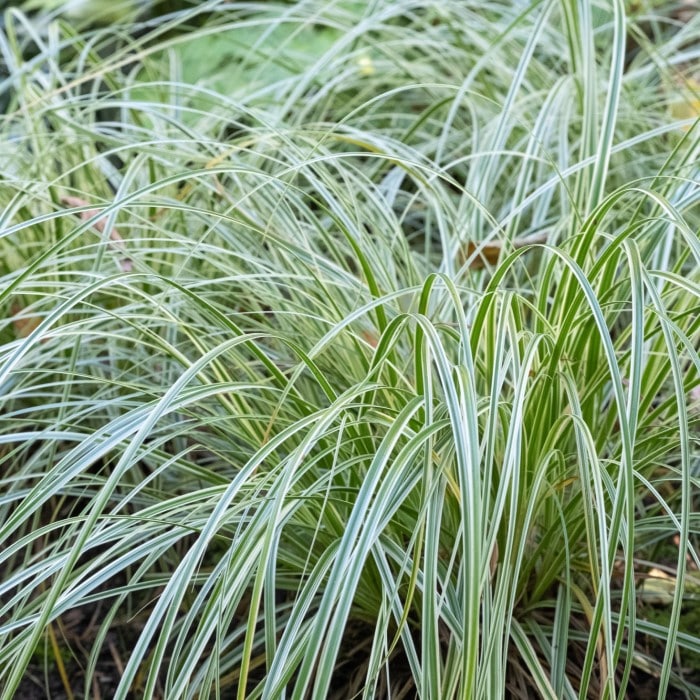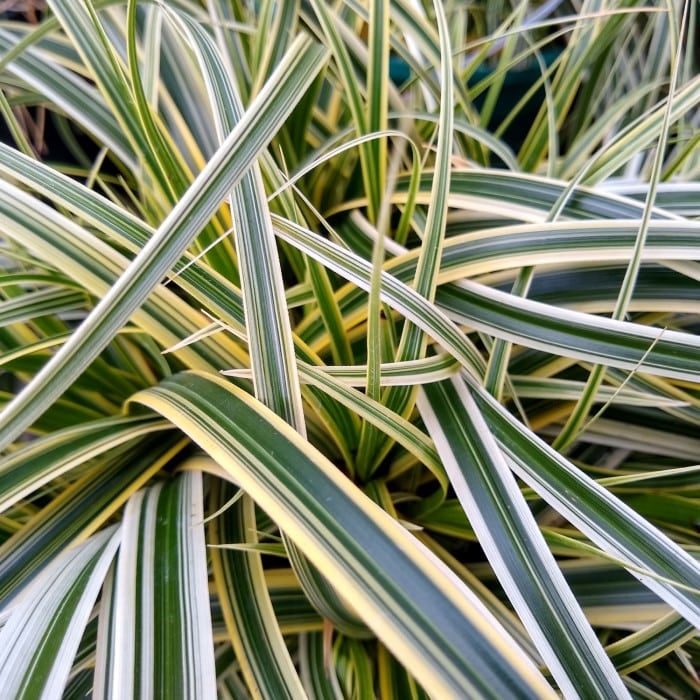 From Almanac, With Care...
The Almanac Planting Co Difference

We're a small, woman-owned startup with a deep focus on product quality and customer satisfaction. You can find off-site, third-party reviews about us on our Etsy store.
Shipping Details

Free shipping on orders over $199*! We normally only ship our live plants on Mondays, Tuesdays, and Wednesdays to help prevent weekend layovers. There is a processing period of up to three days on any order placed. Please check out our shipping policy or contact us with any other questions.