Regular price
$34.95
Sale price
$19.95
Unit price
per
Sale
Sold out
Vaccinium corymbosum 'Mini Blues' (PP #28,233)
SHIPPING RESTRICTION: In order for us to protect the environment and comply with regulations, we're unable to ship this product to the following states: GA, MI, OR, WA. 
Overview
Uses: Blueberry production. Ornamental Bush.
Benefits: Produces very small (.8 gram), extremely flavorful, gourmet blueberries that are perfect for adding to your favorite muffins and pancakes, or eating fresh off the bush! Huge yields! Vigorous growth! 
Zones: 4 - 8
Sun: Full Sun
Life Cycle: Perennial 
Mature Height: 5' - 6'
Mature Width: 3' - 4'
Bloom Season: Spring w/ berries in the summer. 
Summary
Abundant, incredibly flavorful, miniature blueberries are the ideal size for a variety of gourmet applications! 
Vaccinium corymbosum 'Mini Blues'—commonly known as the Mini Blues Blueberry—is best known for its extra small, extremely delicious blueberries. These berries are prized in the culinary world for their ability to remain intact when used in foods such as pancakes and muffins. If you like to use blueberries in your baking, this variety is well suited for you! They're also excellent when ate fresh! 
In addition to high-yielding fruit production, Mini Blues Blueberry Bushes are wonderfully suited for ornamental use! Their dense, upright growth habit and striking, green foliage affords a great level of privacy when they're planted as hedges in tightly spaced rows. White clusters of fragrant, bell-shaped blooms in the springtime adds beauty and attracts pollinators.
Grow Mini Blues Blueberries in your garden for a delicious, sweet-tart treat! Easy to maintain and care for, Mini Blues are compact, disease resistant, and produce a large crop of delicious berries each season. Enjoy a sweet summer snack with ease! Dry or freeze your blueberries to enjoy them throughout the off-season! 
Although considered self-pollinating, it's suggested to plant at least two 'Mini Blues' Blueberry Bushes in the same area to promote pollination and increase yields. 
No significant pest or disease problems. 
Care
Blueberry Bush Care
Fertilizations will accelerate growth and keep your plant well fed. We suggest using our slow release fertilizer, or something similar.
Grow in full sun.
Attempt to keep soil moist but not wet. Mulching the base of the plant with untreated mulch will help ensure moist, cool soil. 
Water regularly after planting until established, or in periods of drought. Its ideal soil is moist, rich, acidic, loamy, and well draining. 
Prune in winter, being sure to remove the old, dead growth. 
Size
Size of Mini Blues Blueberry Bush for Sale Online
The Vaccinium corymbosum 'Mini Blues' that we sell online will ship in a greenhouse grade grow pot. Each plant will be appropriately sized for its pot. Please contact us with any specific questions.
Size of Mini Blues Blueberry Bush When Fully Grown
Vaccinium corymbosum 'Mini Blues' typically grows to a mature height of 5'-6' and a width of around 3'-4'. 
Additional Information
Botanical Name of 

Mini Blues Blueberry Bush

The botanical name of Mini Blues Blueberry Bush is Vaccinium corymbosum 'Mini Blues' (PP #28,233).
Toxicity and Risks of Blueberry Plants
Share
View full details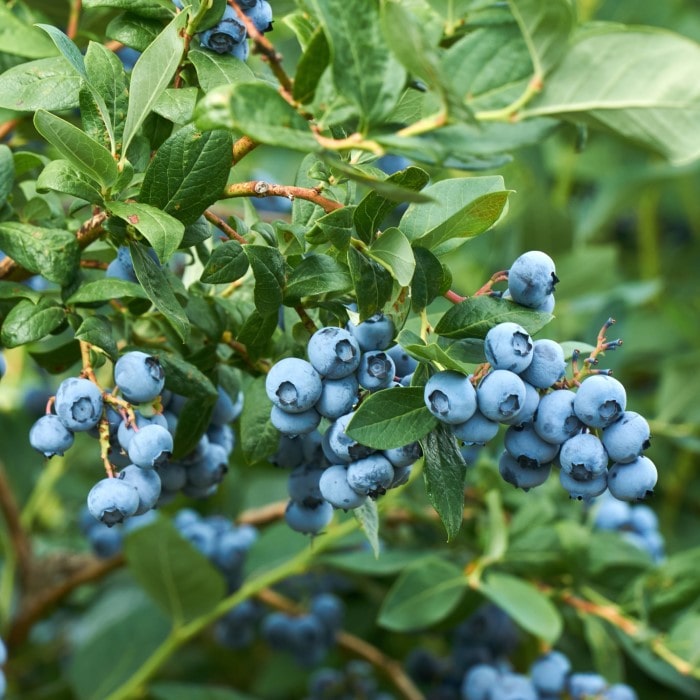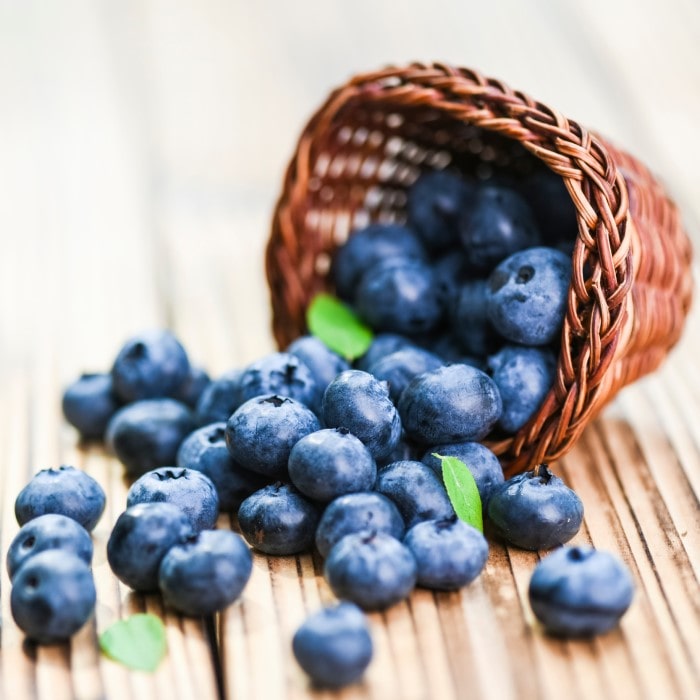 From Almanac, With Care...
The Almanac Planting Co Difference

We're a small, woman-owned startup with a deep focus on product quality and customer satisfaction. You can find off-site, third-party reviews about us on our Etsy store.
Shipping Details

Free shipping on orders over $199*! We normally only ship our live plants on Mondays, Tuesdays, and Wednesdays to help prevent weekend layovers. There is a processing period of up to three days on any order placed. Please check out our shipping policy or contact us with any other questions.