Regular price
Sale price
$37.95
Unit price
per
Sale
Sold out
Lonicera sempervirens 'Magnifica'
Overview

Uses: Native Perennial Vine
Benefits: Extremely vigorous and fast growing! Attracts pollinators. Long lasting boom time with bright orange, sweetly scented, tubular trumpet-like flowers! Produces red berries after flowering that birds love! Climbs by twining. Excellent for planting on pergolas, trellises, arbors, fences, and railings.
Zones: 4 - 9
Sun: Full Sun to Partial Sun
Life Cycle: Perennial 
Mature Height: 4' - 7'
Mature Width: 1' - 6'
Bloom Season: Summer
Summary
Sweetly fragrant orange flowers with golden accents!
Lonicera sempervirens 'Magnifica' is a coral honeysuckle that's native to North America and is typically considered to be non-invasive. It's extremely adaptable and fast growing, sometimes reaching mature size in as little as one grow season! 
Magnifica Honeysuckle is a prolific climber, but sometimes needs a little help to get started (depending on what it's climbing). It's climbing is accomplished through its twining growth patterns, so trellis and fence setups are often best. 
Foliage is deep green with a slight blue hue, and is considered to be semi-evergreen. Warmer climates will allow an evergreen existence, while colder climates will not. 
Butterflies, bees, and (especially hummingbirds) absolutely love this honeysuckle! 
The flowers from this honeysuckle are excellent for use as freshly cut flowers! 
Deer-resistant. 
Care 

Coral Honeysuckle Care
Full sun is best for honeysuckles and often produces the best flowers. Locations receiving partial sun are also considered acceptable; however, too little light will cause negative growth issues. 
Fertilization is suggested, especially if soil is poor. Our slow release fertilizer is a great option. Spring fertilizations are best. 
Prune in the late fall or early spring. All pruning should be done using a clean tool to minimize the risk of diseases. Honeysuckle Vine 'Magnifica' blooms primarily on new wood, so pruning should attempt to maintain the cleanliness and shape of the vine by removing dead and nuisance growth. Avoid over-pruning. 
Water regularly, especially after planting prior to establishment. Attempt to keep soil lightly moist, but not wet. It's suggested to place 2"-3" of mulch under this plant to help retain a light degree of ground moisture. 
Space plants 3' apart. 
Size
Size of Coral Honeysuckle for Sale Online
The Honeysuckle Vine 'Major Wheeler' that we sell online will ship in a greenhouse grade grow pot. Each plant will be appropriately sized for its pot. Please contact us with any specific questions.
Size of Coral Honeysuckle When Mature
Honeysuckle Vine 'Magnifica' will reach mature heights of 4' - 7' and mature widths of 1' - 6'. 
Additional Information
What is the botanical name of Honeysuckle Vine 'Magnifica'?
Its botanical name is Lonicera sempervirens 'Magnifica'.
Share
View full details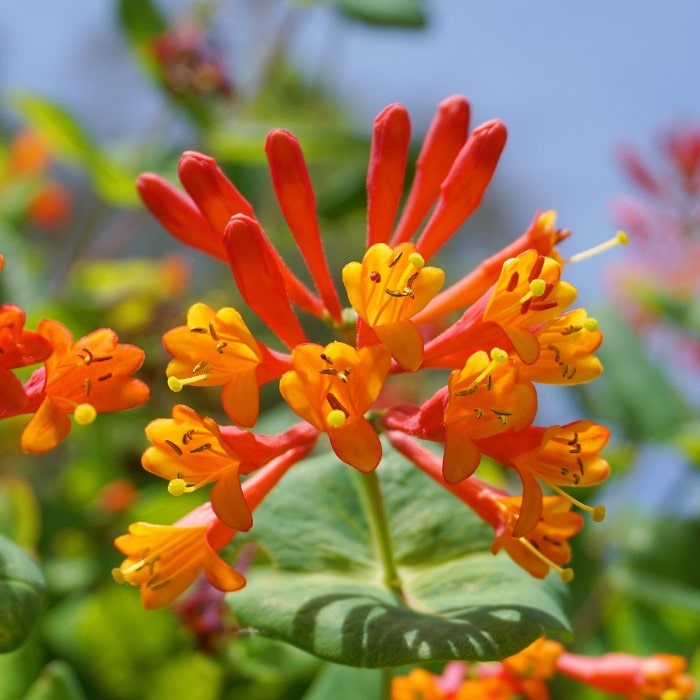 From Almanac, With Care...
The Almanac Planting Co Difference

We're a small, woman-owned startup with a deep focus on product quality and customer satisfaction. You can find off-site, third-party reviews about us on our Etsy store.
Shipping Details

Free shipping on orders over $199*! We normally only ship our live plants on Mondays, Tuesdays, and Wednesdays to help prevent weekend layovers. There is a processing period of up to three days on any order placed. Please check out our shipping policy or contact us with any other questions.
Very satisfied!
Plant arrived healthy and with blooms. Very satisfied!