Regular price
Sale price
$26.95
Unit price
per
Sale
Sold out
Gelsemium sempervirens 'Margarita'
Overview

Uses: Native Perennial Climbing Flowering Vine
Benefits: An extremely vigorous and fast growing hardy Gelsemium! Attracts pollinators. Long lasting boom time with prominent, large, sunshine yellow flowers! An excellent climber that doesn't require training! May also be used as a groundcover if allowed to sprawl! 
Zones: 7 - 10
Sun: Full Sun to Partial Sun
Life Cycle: Perennial 
Mature Height: 8' - 12'
Mature Width: 1' - 5'
Bloom Season: Spring
Summary
A spectacular display of fragrant, sunshine yellow flowers!
Gelsemium sempervirens 'Margarita', commonly known as Carolina Jessamine, is a hardier than average cultivar of Gelsemium that's been known to withstand exposure to temperatures as low as -20°F. Although officially rated for USDA hardiness zones 7-10, we know people who have had great success growing it in zone 6. 
Carolina Jessamine is often described as a "well-mannered" and "restrained" climber, and for good reason! Despite its ability to climb so well, it rarely takes over trees or porches, and is easy to remove if you think its gone too far. 
Gelsemium Margarita also functions beautifully as a low-maintenance and informal mounding groundcover, especially on areas such as steep banks where it's got room to sprawl out! 
Butterflies, bees, and (especially) hummingbirds absolutely love this plant! 
The flowers from Carolina Jessamine are perfect for use as freshly cut flowers! 
Deer-resistant. Salt tolerant! 
Care 

Carolina Jessamine 

Care

All parts of Gelsemium sempervirens 'Margarita' are toxic, including the sap. Handle with care and wear gloves when working with this plant. 

Full sun is best for Gelsemium sempervirens 'Margarita' and often produces the best flowers. Locations receiving partial sun are also considered acceptable; however, too little light will cause negative growth issues. 

Fertilization is suggested, especially if soil is poor. Our slow release fertilizer is a great option. Spring fertilizations are best. 

Do all heavy pruning in late winter or very early spring. Plant may be cut back almost completely (10"+ above ground level) at this time if desired for sizing. All pruning should be done using a clean tool to minimize the risk of diseases. Gelsemium sempervirens 'Margarita' blooms on both new wood and old wood, so pruning should attempt to maintain the cleanliness and shape of the vine by removing dead and nuisance growth. Avoid over-pruning. 

Water regularly, especially after planting prior to establishment. Attempt to keep soil lightly moist, but not wet. Prefers rich, moist, well draining, slightly acidic soil. It's suggested to place 2"-3" of mulch under this plant to help retain a light degree of ground moisture. 

Space plants 3' apart. 
Size
Size of 
Carolina Jessamine 
for Sale Online
The Gelsemium sempervirens 'Margarita' that we sell online will ship in a greenhouse grade grow pot. Each plant will be appropriately sized for its pot. Please contact us with any specific questions.
Size of Carolina Jessamine When Mature
Gelsemium sempervirens 'Margarita' will reach mature heights of 8' - 12' and mature widths of 1' - 5'. 
Additional Information
What is the botanical name of Carolina Jessamine?
Its botanical name is Gelsemium sempervirens 'Margarita'.
Toxicity and Risks of Carolina Jessamine
All parts of Gelsemium sempervirens 'Margarita' are considered extremely toxic, especially when ingested! The roots and flowers contain the highest concentrations of toxins. Symptoms of poisoning may include vision problems, difficulty swallowing, headache, dizziness, muscle problems, breathing problems, slowing of the heart, seizures, and others including death.
Share
View full details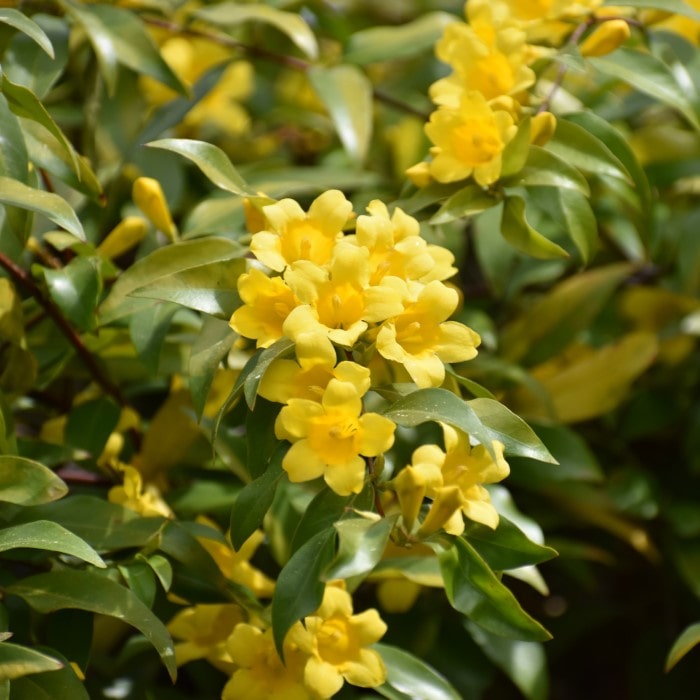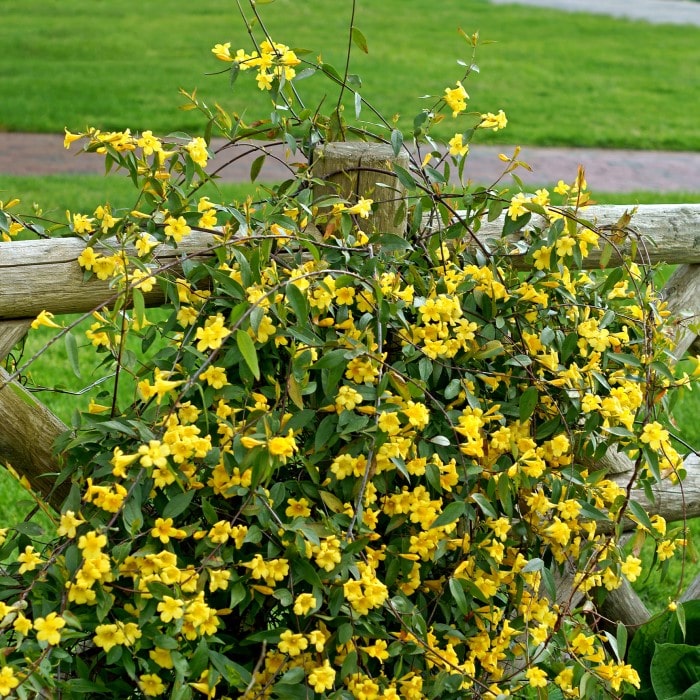 From Almanac, With Care...
The Almanac Planting Co Difference

We're a small, woman-owned startup with a deep focus on product quality and customer satisfaction. You can find off-site, third-party reviews about us on our Etsy store.
Shipping Details

Free shipping on orders over $199*! We normally only ship our live plants on Mondays, Tuesdays, and Wednesdays to help prevent weekend layovers. There is a processing period of up to three days on any order placed. Please check out our shipping policy or contact us with any other questions.