Regular price
Sale price
$9.95
Unit price
per
Sale
Sold out
Zinnia 

elegans (AKA Zinnia violacea)
Overview
Uses: Annual flowering plant 
Benefits: Huge, dense, vibrant double-blooms that are absolutely perfect for cut flowers! Long bloom time and recurrent flowering, even after cutting! 
Zones: 2 - 11 
Sun: Full
Life Cycle: Annual
Mature Height: 40" - 50"
Mature Width: 14"
Bloom Season: June through September (typically)
Summary
Benary's Giant Zinnias are considered by many to be the most premium zinnia in existence! 
Profuse flowering is normal! Blooms seem to come back over and over, even after they're harvested for floral arrangements! 
Recommended by the Association of Specialty Cut Flower Growers for their vigorous growth habits, uniformity, production capacity, and carefree cultivation across a range of growing zones and conditions! 
Flowers feature a bright, golden yellow center when fully opened! 
Giant Zinnias are known to attract various pollinators such as bees, hummingbirds, and butterflies! 
Perfect for a variety of areas, especially rock gardens, mid-borders, patios, and mixed containers. 
Heat, drought, and deer tolerant! 
Care
Giant Zinnia

 Care

Zinnia elegans does best in full sun.

Plant after the last spring frost, ideally when temperatures are above 50°F.

Giant Zinnia requires soil that is moist, but not wet. Irrigate during establishment, and during periods of drought. Do not allow this plant's soil to completely dry! Avoid overhead watering to mitigate the risk of powdery mildew. 

Fertilize as required, especially if planted in poor soil. 

Does best in temperatures between 60°F and 95°F.

Protect against strong winds, especially if flowering! 

Although unnecessary, the deadheading of spent flowers will encourage blooming, and help to ensure a tidy plant. 
Size
Size of Giant Zinnia for Sale Online
The Zinnia elegans that we sell online will ship in a greenhouse grade grow pot. Each plant will be appropriately sized for its pot. Please contact us with any specific questions.
Size of Giant Zinnia
 

When Fully Grown


Benary's Giant Zinnia typically grows to a height of 40" - 50" and a width of 14".
Additional Information
Botanical Names of Benary's Giant Zinnia
Zinnia elegans

Zinnia violacea
Toxicity and Risks of Giant Zinnia
Zinnia elegans is not considered toxic to people or pets. 
Share
View full details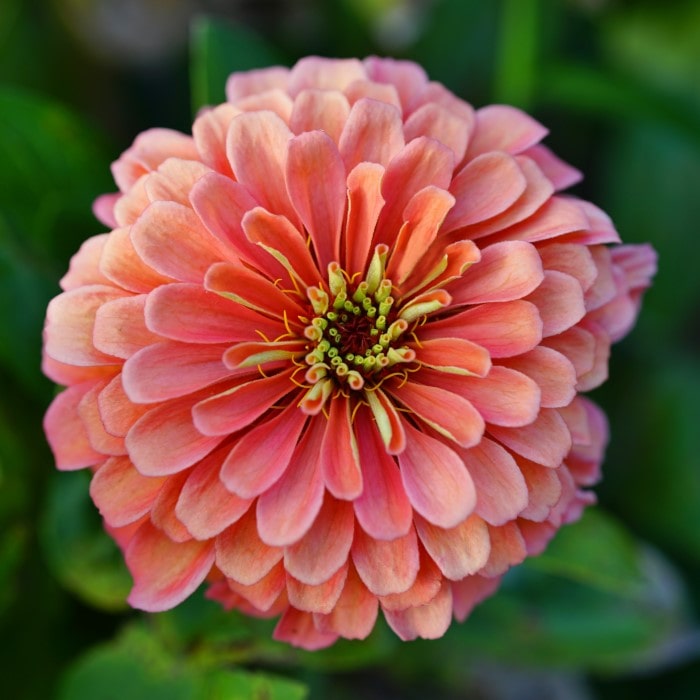 From Almanac, With Care...
The Almanac Planting Co Difference

We're a small, woman-owned startup with a deep focus on product quality and customer satisfaction. You can find off-site, third-party reviews about us on our Etsy store.
Shipping Details

Free shipping on orders over $199*! We normally only ship our live plants on Mondays, Tuesdays, and Wednesdays to help prevent weekend layovers. There is a processing period of up to three days on any order placed. Please check out our shipping policy or contact us with any other questions.