Regular price
Sale price
$9.95
Unit price
per
Sale
Sold out
Zinnia hybrida
'Profusion Red'
Overview
Uses: Annual flowering plant 
Benefits: Forms a compact, dense mound that's covered in red blooms. Prolific flowering! Extremely hardy: drought, wind, and heat tolerant! Attracts pollinators and butterflies! 
Zones: 2 - 11 
Sun: Full
Life Cycle: Annual
Mature Height: 14" - 18"
Mature Width: 20" - 24"
Bloom Season: June through September (typically)
Summary
You've got better things to worry about than your annuals! Profusion Red Zinnia is a hybrid Zinnia that's truly low-maintenance and largely worry free! 
Experience the vibrant beauty of Zinnia 'Profusion Red'! With stunning, prolific 2" red blooms from late spring till frost and a neat, compact habit, this plant is truly a work of art. Plus, you get the added convenience of self-cleaning flowers - no deadheading needed! 
A super vigorous and fast growing cross between Zinnia angustifolia and Zinnia elegans. Be sure to allow at least 6" between plants in order to avoid overcrowding! 
Perfect for cut flowers, even throughout the sweltering heat of summer! 'Profusion Red' is extremely tolerant of heat, drought, mildew, and humidity, and is known to thrive throughout most conditions! 
Zinnias are known to attract various pollinators such as bees, hummingbirds, and butterflies!
Care
Profusion Red Zinnia

 Care

Zinnia hybrida 'Profusion Red' does best in full sun.

Plant after the last spring frost, ideally when temperatures are above 50°F.

Profusion Red Zinnia requires soil that is moist, but not wet. Irrigate during establishment, and during periods of drought. Do not allow this plant's soil to completely dry! Avoid overhead watering to mitigate the risk of powdery mildew. 

Fertilize as required, especially if planted in poor soil. 

Does best in temperatures between 60°F and 95°F.

Although unnecessary, the deadheading of spent flowers will encourage blooming, and help to ensure a tidy plant. 
Size
Size of Profusion Red Zinnia for Sale Online
The Zinnia hybrida that we sell online will ship in a greenhouse grade grow pot. Each plant will be appropriately sized for its pot. Please contact us with any specific questions.
Size of Profusion Red Zinnia
 

When Fully Grown


Zinnia 'Profusion Red' typically grows to a height of 14" - 18" and a width of 20" - 24".
Additional Information
Botanical Name of Profusion Red Zinnia
Zinnia hybrida 'Profusion Red'
Toxicity and Risks of Profusion Red Zinnia
Zinnia hybrida 'Profusion Red' is not considered toxic to people or pets. 
Share
View full details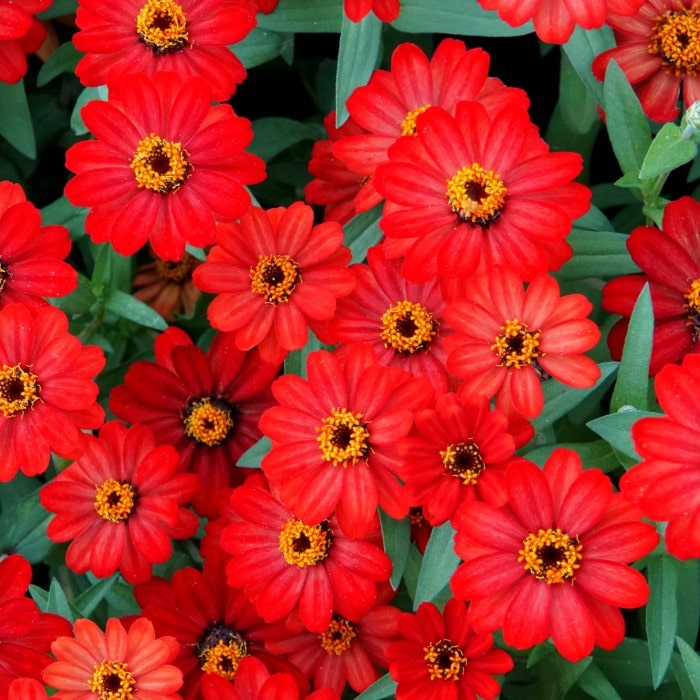 From Almanac, With Care...
The Almanac Planting Co Difference

We're a small, woman-owned startup with a deep focus on product quality and customer satisfaction. You can find off-site, third-party reviews about us on our Etsy store.
Shipping Details

Free shipping on orders over $199*! We normally only ship our live plants on Mondays, Tuesdays, and Wednesdays to help prevent weekend layovers. There is a processing period of up to three days on any order placed. Please check out our shipping policy or contact us with any other questions.