Regular price
Sale price
$11.95
Unit price
per
Sale
Sold out
Aster ericoides 'Snow Flurry'
SHIPPING RESTRICTION: In order for us to protect the environment and comply with regulations, we're unable to ship this product to the following states: CA, ID, NV, OR, TX, UT, WA. 
Overview
Uses: Quick spreading herbaceous perennial. A great groundcover and container plant! 
Benefits: Attracts pollinators and butterflies. Produces late-season, small, attractive, white flowers that have a wonderful fragrance. 
Zones: 3 - 9
Sun: Full Sun to Partial Shade
Life Cycle: Perennial 
Mature Height: 6"
Mature Width: 24"
Bloom Season: Late summer through early fall 
Summary
Aster ericoides—most commonly known as White Heath Aster—is a herbaceous flowering perennial plant that's known to be a particularly hardy groundcover, especially for sites that are prone to strong sun, high heat, and dry soil.  
This particular cultivar, 'Snow Flurry', is a compact, prostrate-type aster that typically only reaches heights of 4" - 6", closely resembling the appearance of juniper or heath. 
This dense growing and quickly spreading variety truly makes an excellent groundcover. 
Plant near a wall or in a container/planter to have its flowering branches eventually cascading over the side. 
Although it's best known for its love of full sun and dry soil, White Heath Aster also does well in richer, moist soils and partial shade.
Attracts pollinators, butterflies, and birds. 
Drought tolerant, heat tolerant, deer resistant. 
Care
White Heath Aster Care
Aster ericoides is very easy to care for and does not require lots of attention or maintenance. 
Although it often does not require fertilizer unless soil conditions are quite poor, fertilizations will accelerate growth and keep your plant well fed. We suggest using our slow release fertilizer, or something similar.
We suggest propagating your White Heath Aster through division every few years. This is best done in spring, and is accomplished by simply cutting the base of the plant and its roots into sections, and replanting those sections. Failure to divide and transplant every few years may result in situations of poor growth due to root bounding and overcrowding. 
White Heath Aster 'Snow Flurry' may be grown in partial sun, although areas that receive full sun are much better. Insufficient sunlight exposure will result in poor growth habits such as stretching, sparse flowering, and proneness to fungus and disease. 
Water regularly after planting until established, or in periods of drought. Its ideal soil is moist, rich, and well draining, although (once established) its known to thrive in dry soil conditions. 
It's best to cut back the leaves and flower stalks of this plant in the winter, although not required.
Size
Size of White Heath Aster for Sale Online
The Aster ericoides 'Snow Flurry' that we sell online will ship in a greenhouse grade grow pot. Each plant will be appropriately sized for its pot. Please contact us with any specific questions.
Size of White Heath Aster When Fully Grown
Aster ericoides 'Snow Flurry' typically grows to a mature height of around 6" and width of about 24". 
Additional Information
Common Names of Aster ericoides 'Snow Flurry'
White Heath Aster

Snow Flurry Aster


Aster 'Snow Flurry'

Compact Aster

Heath Aster 'Snow Flurry'
Toxicity and Risks of White Heath Aster
We could not find any information that would lead us to believe that Aster ericoides is toxic to people or pets. 
The ASPCA lists Aster as nontoxic to dogs, cats, and horses. 
Share
View full details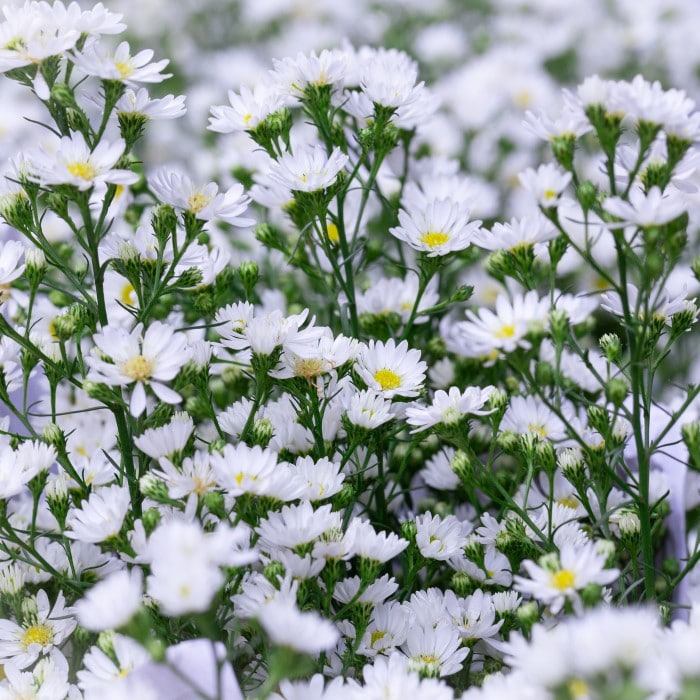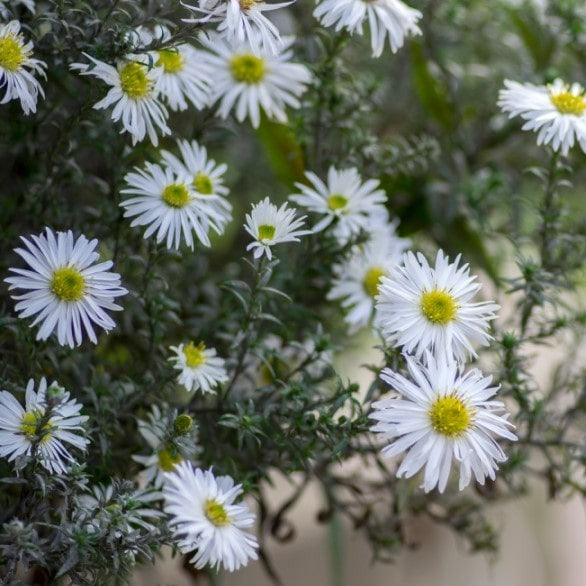 From Almanac, With Care...
The Almanac Planting Co Difference

We're a small, woman-owned startup with a deep focus on product quality and customer satisfaction. You can find off-site, third-party reviews about us on our Etsy store.
Shipping Details

Free shipping on orders over $199*! We normally only ship our live plants on Mondays, Tuesdays, and Wednesdays to help prevent weekend layovers. There is a processing period of up to three days on any order placed. Please check out our shipping policy or contact us with any other questions.
Great service, great plant
My order arrived very quickly and the plant was large and healthy. The rest is up to me! I can't wait to see how this turns out.
Thanks for your review, Trevor!
Very nice I love the aster they haven't started blooming
Thanks for your review, Debbie!
Impressed
The 4 asters I ordered arrived more quickly than I anticipated and were in perfect condition. The packaging was really clever and all recyclable- thanks! - not a bit of dirt left the pots during shhipping. The plants were moist and healthy- not one broken twig, and also bigger than I expected. Best experience I've ever had with shipping live plants. Thanks so much! I'll order again.
Thanks for your review, Sheila!