Regular price
Sale price
$29.95
Unit price
per
Sale
Sold out
Aralia

 

cordata
Overview
Uses: Fast growing anchor plant for shaded areas. 
Benefits: Attracts Pollinators, 2020 Perennial Plant Association's Plant of the Year, Deer Resistant 
Zones: 3 - 9
Sun: Partial Shade to Shade
Life Cycle: Perennial 
Mature Height: 48" 
Mature Width: 48" 
Bloom Season: Summer
Summary
Aralia cordata 'Sun King', commonly known as Japanese Spikenard, was named the 2020 Perennial Plant Association's Plant of the Year for good reason. 
They're perfect for shaded areas and areas that receive partial shade. It's not suggested to keep them in areas that get more than 6 hours of full sun a day. 
The amount of sun that they receive will directly impact the color of their foliage. Partially shaded areas will typically produce leaves that are yellow in color. Heavily shaded areas will likely yield lime-green leaves. Expect varying shades of chartreuse if your Sun King is getting around 3 hours of full sun a day.  
Aralia cordata 'Sun King' grows beautiful 2' tall clusters of small white flowers in the summer that are loved by bees and butterflies alike. The flowers eventually turn into visually attractive, small deep-purple berries that are unable to be ate by people, but provide a very desirable source of food for birds. 
Is known to tolerate deer and wet locations. 
Care
Japanese Spikenard Care
Aralia cordata 'Sun King' is known to be extremely low maintenance and requires minimum care. 
Prune to control growth as necessary. It's best to do any heavy pruning and trimming during periods of dormancy, such as late fall (after flowering) or early spring. 
Fertilizations will accelerate growth and keep your plant well fed. We suggest using our slow release fertilizer, or something similar such as a suitable fertilizer stake. 
Aralia cordata 'Sun King' should ideally receive no more than 6 hours of full sun a day. It has been known to grow in full sun, but such a situation will likely require regular irrigation to keep its soil moist. 
Water regularly after planting until established, or in periods of drought. Is known to tolerate wet soil, although ideal soil is moist, rich, and well draining. 
Is known to thrive in a variety of soils, from clay to shale... even acidic soil.
Typically dies back in the winter, and comes back in the spring. 
Size
Size of 'Sun King' for Sale Online
The Aralia cordata 'Sun King' that we sell online will ship in a greenhouse grade grow pot. Each plant will be appropriately sized for its pot. Please contact us with any specific questions.
Size of 'Sun King' When Fully Grown
Aralia cordata 'Sun King' typically grows in a somewhat mound-like shape to an average size of around 48" x 48". Some people have plants that max out around 3', while others grow up to 6'. 
Additional Information
Common Names of

Aralia

 

cordata 

'Sun King'

 
Japanese Spikenard

Golden Japanese Spikenard


Japanese Udo
Toxicity and Risks of 'Sun King'
We are unable to find any information that would lead us to believe that Aralia cordata 'Sun King' is toxic. Although its berries are not considered edible, they also aren't considered toxic.
The spring shoots of this plant are sometimes blanched, and eaten as a vegetable. The roots of this plant are sometimes used as a herbal medicine. 
Share
View full details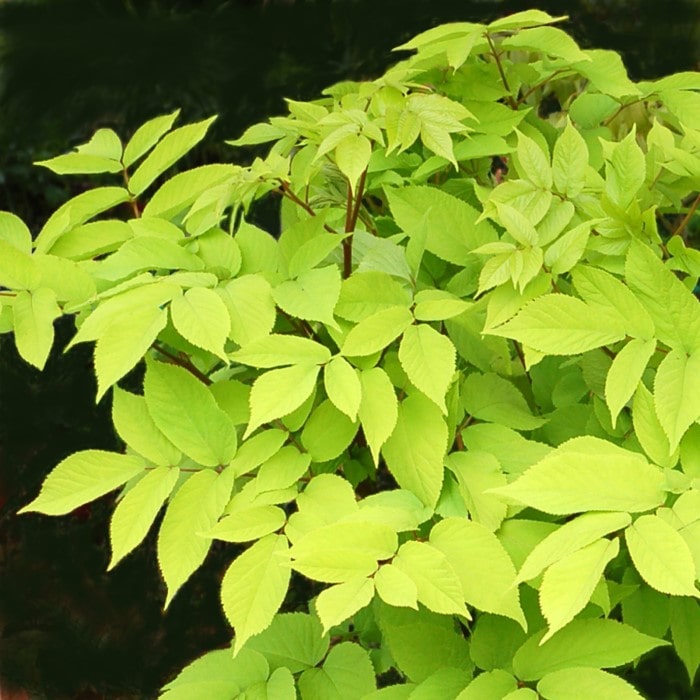 From Almanac, With Care...
The Almanac Planting Co Difference

We're a small, woman-owned startup with a deep focus on product quality and customer satisfaction. You can find off-site, third-party reviews about us on our Etsy store.
Shipping Details

Free shipping on orders over $199*! We normally only ship our live plants on Mondays, Tuesdays, and Wednesdays to help prevent weekend layovers. There is a processing period of up to three days on any order placed. Please check out our shipping policy or contact us with any other questions.
Japanese Spikenard
The plant arrived on schedule, in great condition. Excellent packing! As you instructed, we let it rest for a couple of days. Planted it yesterday, and it's healthy, has a new shoot just starting, seems happy and thriving. Thanks!
The plants arrived in top condition. Securely packed and ready to plant. I couldn't be happier with them.
Plant arrived well packed and in good condition. Been in the ground a little over a week and already sprouted new growth.
Very well packaged healthy plant arrived. Thank you.