Regular price
Sale price
$16.95
Unit price
per
Sale
Sold out
Muehlenbeckia platyclada (AKA Homalocladium platycladum)
Overview
Uses: Houseplant, patio plant, or outdoor plant (in approved tropical zones)
Benefits: Super unique, flattened, evergreen stems! Attractive, upright growth habit! Easy to take care of. 
Zones: 9 - 12 (Overwinter indoors in colder zones)
Sun: Full sun to partial shade. Avoid strong, afternoon sun if possible. A minimum 4 hours of bright indirect sun daily is suggested.
Life Cycle: Perennial
Mature Height: 4' (easily kept lower with trimming)
Mature Width: 3' (easily kept thinner with trimming)
Bloom Season: Spring
Summary
Ribbon Bush—also commonly called Tapeworm Plant and Centipede Plant—is best known for its strikingly unique and beautiful stems (called phylloclades), which are flattened, glossy, and predominately leafless! The stems often grow in a tangled, erect fashion; often reaching heights of 3' or more prior to falling over, or requiring staking and support.
Grows very tiny (1" - 2") leaves on new stems. The leaves usually last about a month prior to falling off and never returning. 
A popular houseplant and patio plant due to its lush, evergreen appearance and ease of care. It grows in somewhat of a mound-like shape and produces little, whitish green flowers in the spring that are followed by the development of small, black berries which mature in the fall.
Ribbon Bush is a great indoor plant option for someone that wants to add green space to an area of bright-indirect light or partial shade, and does well in the same types of light conditions when planted outdoors in tropical (zone 9a+) climates.
May easily be kept small by pruning. 
Easily propagated through the use of cuttings. 
Care
Ribbonbush Care
Prefers moist, well draining soil. Avoid overwatering and do not allow this plant to rest in standing water.
Too much watering will result in the yellowing of the stems, eventually followed by root rot should the wet conditions persist.
This plant is not highly drought resistant and too little water will initially result in browning of the plant, eventually followed by death if the dry conditions persist.
Muehlenbeckia platyclada (AKA Homalocladium platycladum) prefer high humidity and do best in areas where the RH stays above 60%.
This plant does well with daily misting, especially if kept in drier environments.
Humidifiers and pebble beds may be used to supplement humidity. 
It's best to keep this plant in temperatures above 50°F to ensure its beauty and the integrity of its growth; however, this low maintenance houseplant can likely survive outdoors year round providing the temps stay above 25°F.
All pruning of your Ribbon Bush should be done using a sharp and clean set of pruning shears to ensure a clean cut and to mitigate the spread of disease. We suggest making your cuts just above a node, and lightly fertilizing after any heavy pruning. 
It is suggested to use a balanced water-soluble/liquid fertilizer, fish emulsion, or slow release fertilizer. Our slow release fertilizer is a great, low maintenance option. 
Size
What Size are the Ribbon Bush Plants for Sale Online?
The Muehlenbeckia platyclada (AKA Homalocladium platycladum) that we sell online will ship in a greenhouse grade grow pot. Each plant will be appropriately sized for its pot. Please contact us with any specific questions.
How Big Do Ribbon Bush Plants Get?
Muehlenbeckia platyclada (AKA Homalocladium platycladum) will likely grow to heights of around 4' and widths of around 3'. The size may easily be kept small by trimming and pruning. 
Additional Information
Common Names for Muehlenbeckia platyclada (AKA Homalocladium platycladum)

Ribbon Bush

Centipede Plant

Tapeworm Plant
Toxicity and Risks of Ribbon Bush
Muehlenbeckia platyclada (AKA Homalocladium platycladum) is thought to be mildly toxic to both people and pets.
Share
View full details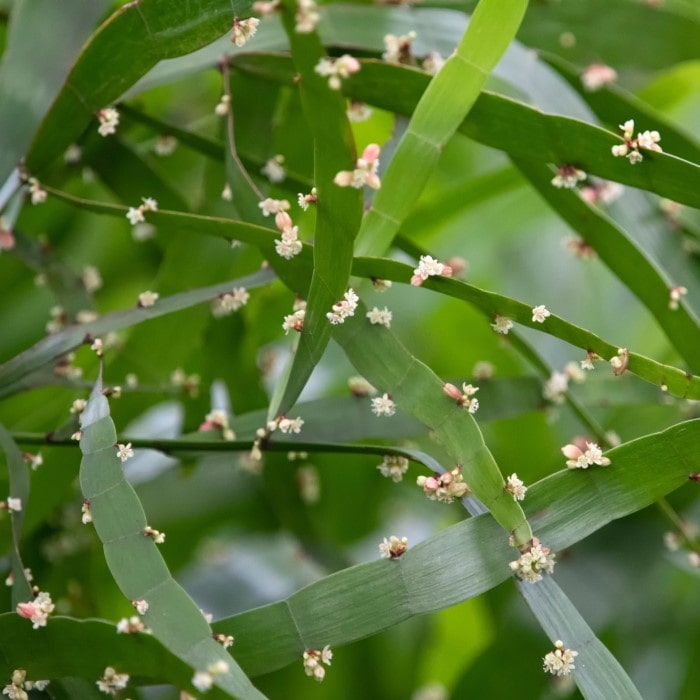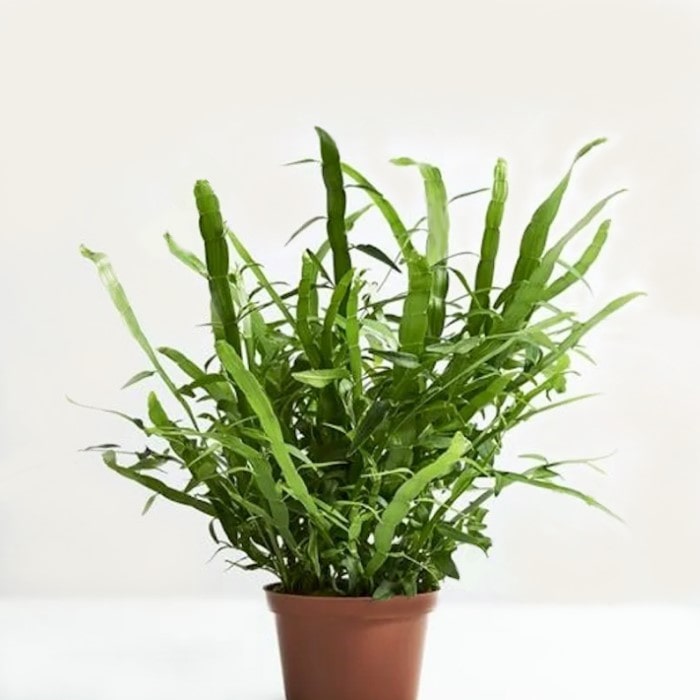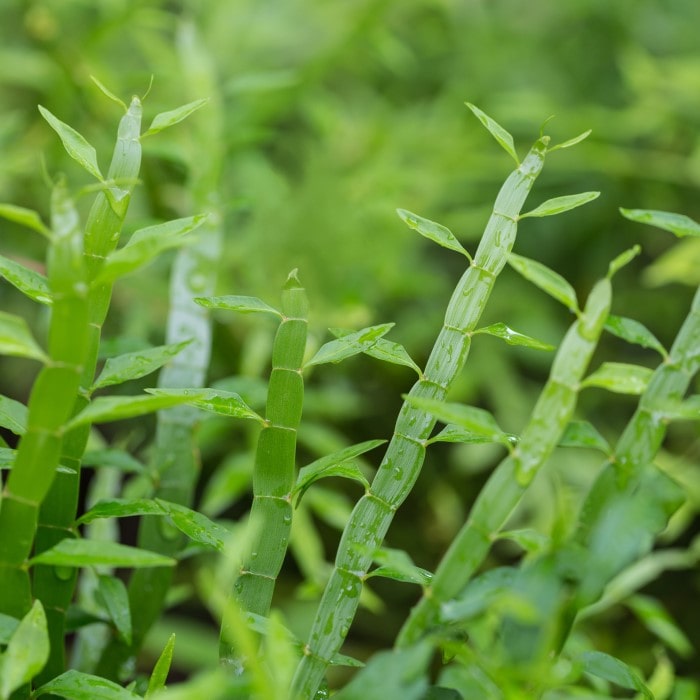 From Almanac, With Care...
The Almanac Planting Co Difference

We're a small, woman-owned startup with a deep focus on product quality and customer satisfaction. You can find off-site, third-party reviews about us on our Etsy store.
Shipping Details

Free shipping on orders over $199*! We normally only ship our live plants on Mondays, Tuesdays, and Wednesdays to help prevent weekend layovers. There is a processing period of up to three days on any order placed. Please check out our shipping policy or contact us with any other questions.