Regular price
Sale price
$6.95
Unit price
per
Sale
Sold out
Solanum lycopersicum
SHIPPING RESTRICTION: In order for us to protect the environment and comply with regulations, we're unable to ship this product to the following states: CA, GA, NV. 
Overview
Uses: Tomato crop production—produces excellent yields 
Benefits: Cordon (produces crops all season). Produces massive, 2 pound+ tomatoes that have a delicious sweet flavor, and a meaty texture. Yellow, orange, and red marbled flesh! Ideal for slicing into tomato sandwiches, salads, salsas, and sauces!
Zones: 3 - 9 suggested (has been known to survive in all USDA Hardiness Zones)
Sun: Full
Growth: Indeterminate (cordon)
Life Cycle: Annual
Mature Height: As high as 6' with proper staking and fertilization. 
Mature Width: 30"
Bloom Season: Summer to Early Fall
Summary
One of the best tasting heirloom tomatoes on the market! 
Pineapples tomatoes are best known for their ribbed body (they're closely related to a Beefsteak Tomato), orangish skin, and their marbled yellow, orange, and red flesh. 
Their taste is delicious, and best described as mildly sweet and fruity. This makes them perfect for so many things as they wonderfully compliment a variety of flavors without overpowering them. Best used in sauces, salsas, sandwiches, and salads. 
Pineapple Tomatoes have a slightly slower than average maturation rate, and should begin to produce their first harvests sometime in the middle of summer, often sustaining their production of crops until mid-fall. One may expect ripe tomatoes about 70-80 days after planting one of our starter plants.
Pineapple Tomato is an indeterminate variety of tomato, often referred to as a vine or cordon tomato. This means; unlike a determinate variety, they keep growing and producing tomatoes from the beginning of the summer until early fall (determinate varieties stop growing at a certain height, then produce all of their crop within a short time frame). 

Does not require staking or caging, although we highly suggest doing such. It grows as a vine, so un-staked plants will travel along the ground, causing their fruit to be more susceptible to rot. Pineapple tomatoes are very large and heavy, so a strong stake or cage is suggested. 
Care
Pineapple Tomato Plant Care
Pineapple Tomatoes will likely tolerate temperatures above 40°F, but it's suggested to attempt to keep them in temperatures above 55°F.
Plant 36" apart.
Suggest planting late-March through May depending on temperatures in your area. Keep in temperatures above 55°F. 
Does best in temperatures between 75°F and 95°F.
Likes organic, rich soil with lots of drainage. 
Make sure to water regularly and attempt to keep soil moist but not wet. 
Give early dose of high nitrogen organic fertilizer either when planting or as a part of soil preparation.
Will benefit from a high phosphorus organic fertilizer once established, just prior to or after it begins to produce fruit. 
Suggest caging, or staking and providing something to climb, although not required. Unsupported plants will likely grow on the ground in a somewhat vine-like fashion, which will drastically increase the potential of rotting fruit. 
You'll know your Pineapple Tomatoes are ready to harvest once their skin matures to a shade of orange, and are firm, yet bouncy when squeezed. 
Size
Size of Pineapple Tomato Plants for Sale Online
The Pineapple Tomatoes that we sell online will ship in a greenhouse grade grow pot. Each plant will be appropriately sized for its pot. Please contact us with any specific questions.
Size of Pineapple Tomatoes When Fully Grown
Pineapple Tomatoes often spread to a width of around 30" when staked and allowed to grow vertical. They're cordon-type growers, so their vines may grow as long as 6' long in certain situations.
Additional Information
Botanical Name of Pineapple Tomato 
The botanical name of Pineapple Tomato is Solanum lycopersicum.
Toxicity and Risks of Pineapple Tomatoes
Tomato plants are actually considered toxic. They're members of the nightshade family, and produce an alkaloid called tomatine. 
This alkaloid is most present in the unripe fruit, the stem, and the leaves of a tomato plant.
Tomatine is toxic when ingested in extremely large doses, it may cause gastrointestinal problems, liver, and even heart damage.
Share
View full details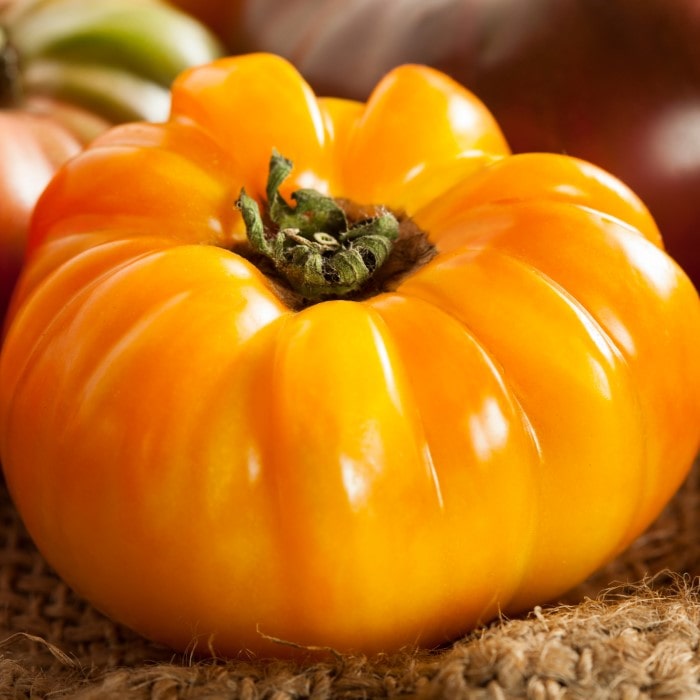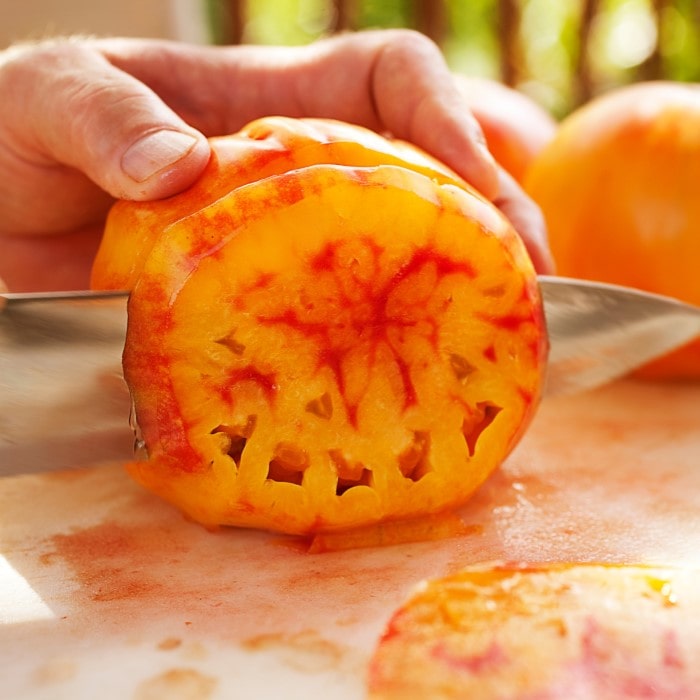 From Almanac, With Care...
The Almanac Planting Co Difference

We're a small, woman-owned startup with a deep focus on product quality and customer satisfaction. You can find off-site, third-party reviews about us on our Etsy store.
Shipping Details

Free shipping on orders over $199*! We normally only ship our live plants on Mondays, Tuesdays, and Wednesdays to help prevent weekend layovers. There is a processing period of up to three days on any order placed. Please check out our shipping policy or contact us with any other questions.
Great plants I already planted in the garden doing good even got a couple flower buds
Thanks for the review, Mike!
tomato plant
The pineapple tomato plant I bought was a very healthy plant.It was a nice size too to be put in the ground. But unfortunately I live in a cold climate and it won't be planted until beginning of May hopefully.
Thanks for your review, Anita!