Regular price
Sale price
$69.95
Unit price
per
Sale
Sold out
Zantedeschia aethiopica 'White Giant'
Overview
Uses: Rhizomatous Herbaceous Perennial
Benefits: Extremely large, beautiful white flowers great for use in freshly cut floral displays! Very fast growing and versatile! Attracts pollinators! 
Zones: 8 - 12 (may be grown in zones 4 - 12 as an annual or by digging out and overwintering the bulb indoors)
Sun: Partial Sun to Full Shade
Life Cycle: Perennial 
Mature Height: 24" - 36"
Mature Width: 12" - 24"
Bloom Season: Summer
Summary
Massive growth habit, gorgeous white flowers, and speckled leaves! 
Grows fast, especially with hot and humid conditions and constantly damp soil! 
Giant Calla Lily will live as a perennial evergreen in warmer zones (11-12) and die back like a deciduous perennial over winter in cooler hardiness zones (8-10). It may also temporarily lose its leaves after exposure to frost and in times of drought. 
The huge, white flowers are a favorite of the floral arrangement industry! Please be aware that the flowers may require up to two years of growth to emerge. 
Divide your Giant Calla Lily's bulb every 4 to 5 years, or when propagation is desired. Use caution and a clean knife, and make sure each division has at least one stem. 
Care
Calla Lily Care
Zantedeschia aethiopica is considered moderately easy to care for.
Although it often does not require fertilizer unless soil conditions are quite poor, fertilizations will accelerate growth and keep your plant well fed. We suggest using our slow release fertilizer, or something similar.
Giant Calla Lily may be grown in full sun, although shaded areas are often much better. Prolonged exposure to strong afternoon sun may injure this plant. If growing in full sun, ensure that soil is kept moist and cool through the use of irrigation and mulch (or other suitable ground covers). 
Water regularly after planting until established, or in periods of drought. Its ideal soil is moist, rich, and well draining. It's known to thrive in both acidic and alkaline soil.
If growing in zones 8-10, it's best to cut back the leaves and flower stalks of this plant in the winter, although not required.
If growing in zone 7, you may be safe leaving your Giant Calla Lily's bulb in the ground over winter, assuming it's protected with a thick layer of mulch or straw. 
If growing in zones 6 or cooler, it's suggested to either grow your Giant Calla Lily in a container that is overwintered inside, or to dig up the bulb in fall and overwinter it inside. Replant outside in the spring after the chance of frost has passed. 
Exposure to frost will destroy the leaves of Giant Calla Lily. 
After a few years, we suggest propagating your Giant Calla Lily through division of the bulb. This is best done in spring, and is accomplished by simply cutting the bulb of the plant and into sections, and replanting those sections. Ensure each section has at least one living plant stalk. Failure to divide and transplant every few years may result in situations of poor growth. 
Size
Size of Giant White Calla Lily for Sale Online
The Zantedeschia aethiopica that we sell online will ship in a greenhouse grade grow pot. Each plant will be appropriately sized for its pot. Please contact us with any specific questions.
Size of Giant White Calla Lily When Fully Grown
Zantedeschia aethiopica typically grows to a height of 24" - 36" and width of 12" - 24". 
Additional Information
Common Names of Zantedeschia aethiopica
African Lily

Altar Lily

Arum Lily

Calla Lily

Egyptian Lily

Lily Of The Nile

Pig Lily

Trumpet Lily

White Arum Lily
Toxicity and Risks of Giant Calla Lily
Zantedeschia aethiopica is considered toxic to both people and pets. 
This toxicity is due to the presence of calcium oxalate crystals in the form of raphides. All parts of the plant are toxic. Skin contact typically causes local irritation and contact dermatitis. Consumption typically results in a burning sensation in the mouth and occasionally vomiting and diarrhea.
Share
View full details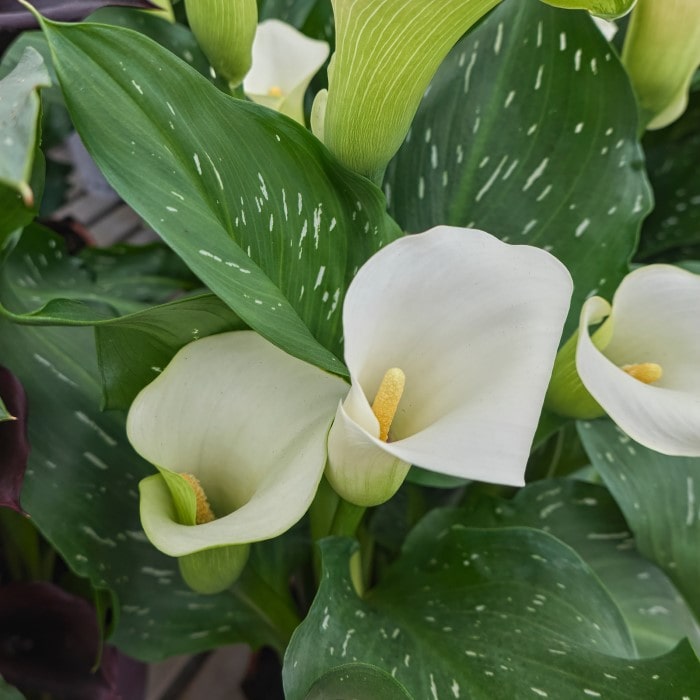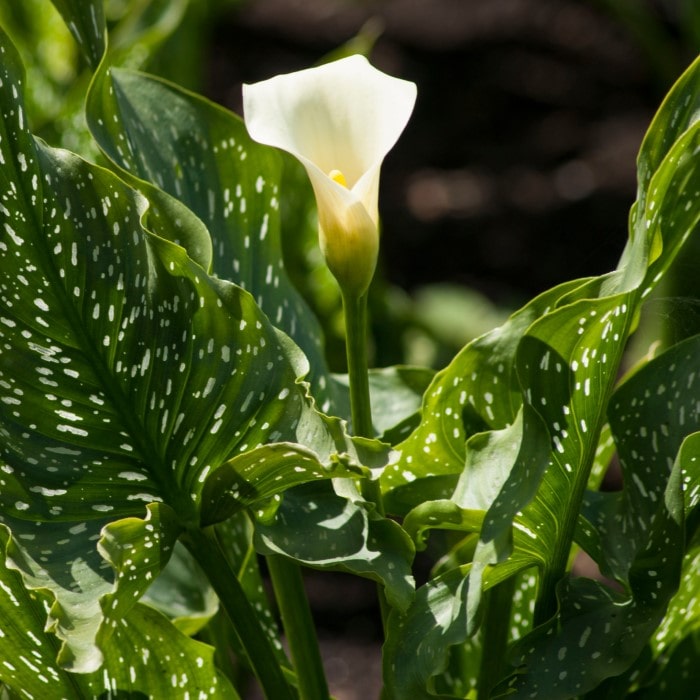 From Almanac, With Care...
The Almanac Planting Co Difference

We're a small, woman-owned startup with a deep focus on product quality and customer satisfaction. You can find off-site, third-party reviews about us on our Etsy store.
Shipping Details

Free shipping on orders over $199*! We normally only ship our live plants on Mondays, Tuesdays, and Wednesdays to help prevent weekend layovers. There is a processing period of up to three days on any order placed. Please check out our shipping policy or contact us with any other questions.
Disappointed
We are still getting frost off and on so I can't plant it yet and the leaves are turning yellow 😕
We're sorry to hear you're disappointed, Roberta! Hopefully the frost risk in your area will be over soon, so that you're able to get your plant into a nice and happy place in the ground outside, as growing Calla Lilys in containers indoors is definitely difficult. Regarding the yellowing leaves: we suggest trying to keep the potting soil slightly moist, but not wet. Also, give your plant full sun (as the sun in your area is likely not strong yet) until you're able to plant it in the ground. Please contact us if your problems worsen, or if you've got any questions.
Best wishes from your friends at Almanac Planting Co.