Regular price
Sale price
$129.95
Unit price
per
Sale
Sold out
Cercis
 

canadensis 'Forest Pansy'
Overview

Uses: Compact Deciduous Flowering Tree
Benefits: The purple leaf version of Eastern Redbud! Profuse purplish rose colored blooms on bare branches in spring before leaves form! Native to Eastern America! Low maintenance! 
Zones: 5 - 9
Sun: Full sun to partial shade
Life Cycle: Perennial 
Mature Height: 20' - 30' 
Mature Width: 25' - 35'
Bloom Season: Early to Mid Spring
Growth Rate: Moderate
Summary
The purple leafed version of our Eastern Redbud! 
Cercis canadensis 'Forest Pansy'—commonly called Forest Pansy Redbud, Purple Eastern Redbud, and Purple American Redbud—is a compact deciduous flowering tree that's most famous for being a purple leafed tree that's one of the earliest and brightest bloomers of spring! 
It blooms on old wood, so you're sure to have quite the spectacle during spring flowering! Our 'Forest Pansy' Redbuds will often provide you with blooms within the first year of delivery! 
Forest Pansy Redbud is ramiflorous, which means (unlike many other trees) that its flowers are initially produced on bare branches without any foliage. Foliage coexists and eventually takes the place of blooms as the season progresses.
Blooms are typically about 1/2" in diameter and vary in color between shades of pinks of purple! 
Blooms are followed by bean-like seed pods that brown in the summer and often persist until winter.
The bark is a lovely shade of gray, and often scales on mature trees, which adds seasonal interest! 
In addition to its beauty, it's also incredibly strong and hardy! In fact, it's able to withstand temperatures as low as -20°F! 
Its foliage varies in shades from scarlet purple to maroon, sometimes with hints of blue and green prior to shifting to golden yellows and reds before dropping in late autumn. 
Truly a perfect tree for so many spaces! Its smaller size, low maintenance, and bold visuals work well as a standalone specimen, a border, lining a path or driveway, or next to your porch! 
Deer tend to avoid this tree.

Care

Forest Pansy Redbud Care
Provide full sun or partial sun. Too little light will cause growth issues. 
It's suggested to plant southern grown Forest Pansy Redbuds in an area that gets some shade from the strong afternoon sun. Conversely, those grown in northern climates often benefit from as much sun as possible.  
Fertilization is suggested, especially if soil is poor. Our slow release fertilizer is a great option. We recommend that fertilizations be completed in the spring.
Does best in soil that's moist, slightly acidic, and well draining. Does not thrive in dry soil, although it's known to tolerate dry soil once established. 
Pruning and trimming is typically not required, although it may be done to promote desired shaping. Any heavy trimming should be done over the course of winter. Prune any dead branches as they appear. 

Water regularly, especially after planting prior to establishment. Attempt to keep soil moist, but not wet. It's suggested to place 2"-3" of mulch under this plant to help retain a light degree of ground moisture and to prevent the growth of weeds around the base.
Forest Pansy Redbuds do not transplant well once they're over a few years old. 
Size
Size of Forest Pansy Redbud for Sale Online
The Cercis canadensis 'Forest Pansy' that we sell online will ship in a greenhouse grade grow pot. Each plant will be appropriately sized for its pot. Please contact us with any specific questions.
Size of Forest Pansy Redbud
When Mature
Cercis canadensis 'Forest Pansy' often grows to be wider than tall, typically reaching mature heights of 20' - 30' and mature widths of 25' - 35'.
Additional Information
What is the botanical name of Forest Pansy Redbud?
Its botanical name is Cercis canadensis 'Forest Pansy'.
Toxicity and Risks of Forest Pansy Redbud
Cercis canadensis 'Forest Pansy' contains toxic saponins, and may be toxic if ingested in large doses. 
Share
View full details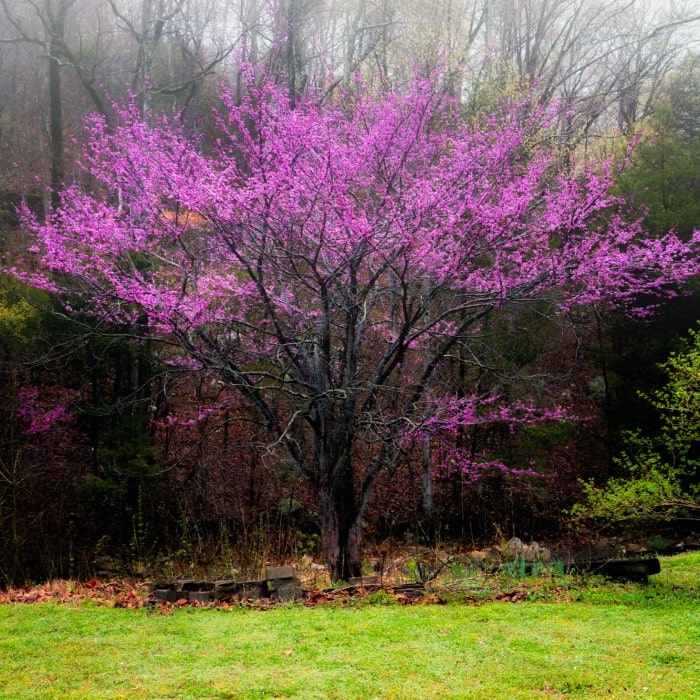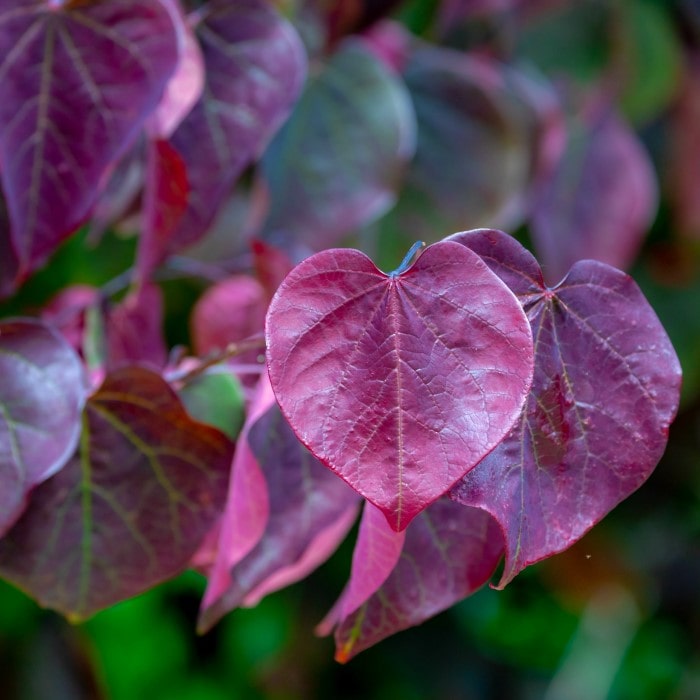 From Almanac, With Care...
The Almanac Planting Co Difference

We're a small, woman-owned startup with a deep focus on product quality and customer satisfaction. You can find off-site, third-party reviews about us on our Etsy store.
Shipping Details

Free shipping on orders over $199*! We normally only ship our live plants on Mondays, Tuesdays, and Wednesdays to help prevent weekend layovers. There is a processing period of up to three days on any order placed. Please check out our shipping policy or contact us with any other questions.