Regular price
Sale price
$54.95
Unit price
per
Sale
Sold out
Ficus carica 'Chicago Hardy'
Overview

Uses: Fruit production. Perfect for planting outdoors or growing on your patio! 
Benefits: Cold hardy to USDA Zone 5! Produces fruit as early as the second year! Impressive production with as many as 100 pints of delicious figs per mature tree per season! Self-pollinating! 
Zones: 5 - 10
Sun: Full sun to Partial Sun
Life Cycle: Perennial 
Mature Height: 10' - 15'
Mature Width: 10' - 12'
Bloom Season: Spring and Summer
Harvest Season: July through Fall Frost
Growth Rate: Moderate
Summary
This Chicago Hardy Fig Tree—also referred to as the Hardy Chicago Fig, and the Bensonhurst Purple Fig—is a small, robust variety with a high tolerance for colder climates. The tree thrives in a variety of soils and bears abundant fruits late into the season. Its long-standing popularity is due to its ability to produce abundant fruits over a long stretching season.
Self-pollinating, so you'll only need one tree to produce figs! 
Grow fresh, delicious figs in your own backyard with the Chicago Hardy Fig Tree. This hardy variety of fig produces a high yield of the iconic Chicago Hardy fruit with reliable, sweet flavor profiles. Enjoy the fruits of your labor for years to come, even in cold climates!
Fruits on new wood! 
May be grown as a patio plant and overwintered indoors in zones colder than USDA Hardiness Zone 5. 
The purple colored fruit is sweet, rich, and perfect for a variety of uses! While many people eat their figs right off the tree, others choose to make jellies and jams, salads, and add fig to a wide variety of dishes! Hardy Chicago Fig fruit is extremely versatile, plus they're high in a variety of vitamins and minerals! 
Even the leaves of fig trees are used in cooking! Many cultures choose to use the leaves when grilling, steaming, or baking other types of food, as they offer protection from direct exposure to high heat, and also impart a delicious, smoky flavor. The leaves are also sometimes used in making tea! 
May have branches that die back over winter in cold climates, to regrow again in the spring. 
This tree is drought tolerant once established! 
Care

Chicago Hardy Fig Tree Care
Although areas of partial shade are acceptable, areas of full sun will yield the biggest harvests! Too little light will cause growth issues. 
Does best in soil that's moist, slightly acidic, and well draining. Does not thrive in dry soil! 
Pruning and trimming is typically not required on fig trees, other than to remove dead and/or damaged branches. Some growers like to prune their fig trees for shape and to thin areas of dense branching. It's best to do any heavy trimming over the winter while the tree is dormant. 
Fertilization is suggested, especially if the soil is poor. Our slow release fertilizer is a great option. We recommend that fertilizations be applied in the spring.
Water regularly, especially after planting prior to establishment. Attempt to keep soil moist, but not wet. It's suggested to place 2"-3" of mulch or straw under this tree to help retain a light degree of ground moisture and to prevent the growth of weeds around the base.
Space Chicago Hardy Fig Trees 15'+ apart. 
Size
Size of Chicago Hardy Fig Trees for Sale Online
The Ficus carica 'Chicago Hardy' that we sell online will ship in a greenhouse grade grow pot. Each plant will be appropriately sized for its pot. Please contact us with any specific questions.
Size of Chicago Hardy Fig Trees
When Mature
Ficus carica 'Chicago Hardy' will often reach mature heights and widths of 10'-15'.
Additional Information
What is the botanical name of Chicago Hardy Fig Tree?
Its botanical name is Ficus carica 'Chicago Hardy'.
Toxicity and Risks of Chicago Hardy Fig Tree
Ficus carica 'Chicago Hardy' is considered mildly toxic to both people and pets!
Its toxicity is a result of the fact that the unripe fruit and sap of this plant, with the exception of its ripe fruit, contain furanocoumarins; which are known to irritate the eyes and skin, causing contact dermatitis. 
Share
View full details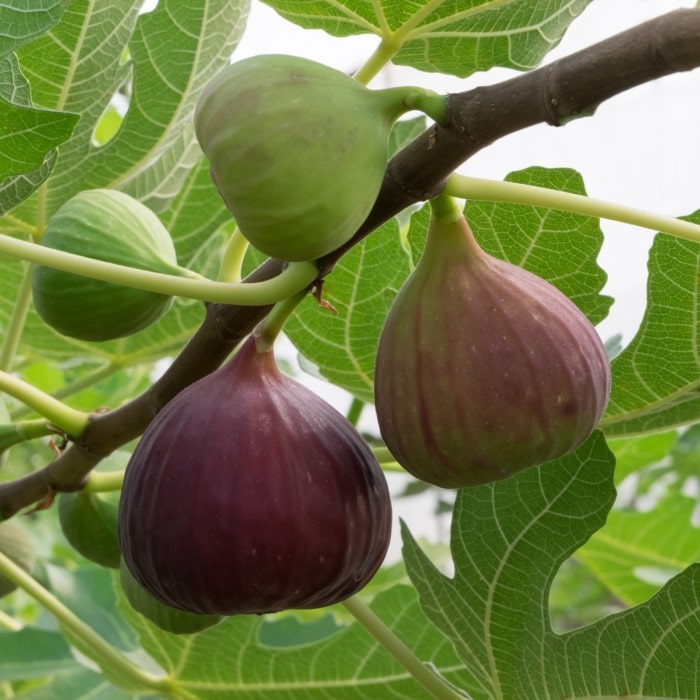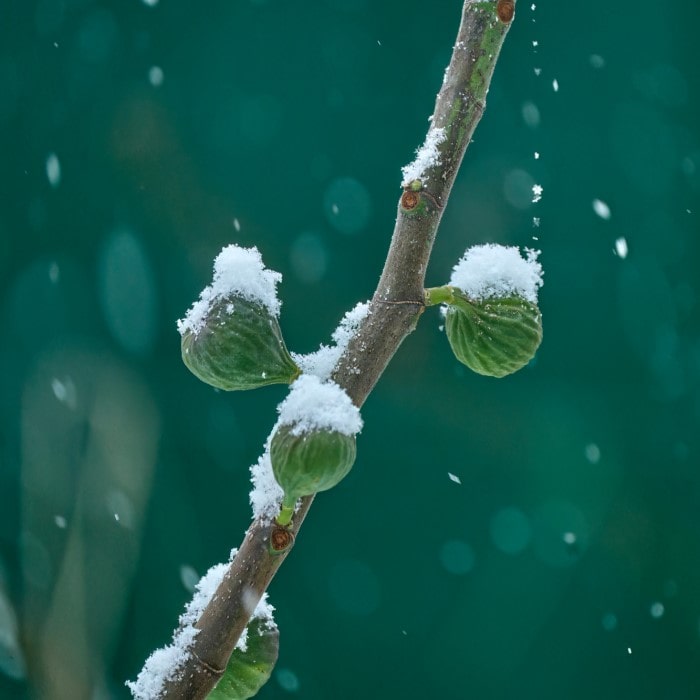 From Almanac, With Care...
The Almanac Planting Co Difference

We're a small, woman-owned startup with a deep focus on product quality and customer satisfaction. You can find off-site, third-party reviews about us on our Etsy store.
Shipping Details

Free shipping on orders over $199*! We normally only ship our live plants on Mondays, Tuesdays, and Wednesdays to help prevent weekend layovers. There is a processing period of up to three days on any order placed. Please check out our shipping policy or contact us with any other questions.