Regular price
Sale price
$14.95
Unit price
per
Sale
Sold out
Ipomoea
sloteri 
(aka Ipomoea
 × 

multifida)
Overview

Uses: Climbing flowering vine
Benefits: Bright, beautiful red flowers. Attracts hummingbirds and butterflies. 
Zones: 10 - 12 (Grown as an annual in colder zones)
Sun: Full Sun to Partial Shade
Life Cycle: Perennial (Grown as an annual in colder zones)
Mature Height: Vines grow as long and can climb up to 15 feet 
Mature Width: 12"
Summary
Ipomoea sloteri—often called Ipomoea × multifida, and commonly called both Cardinal Climber, and Cypress vine—is an annual flowering vine that's known for its small, bright red flowers that hummingbirds absolutely love. 
Although it's commonly referred to as Cypress Vine, Cardinal Climber is actually a cross between Cypress Vine (Ipomoea quamoclit) and Morning Glory Vine (Ipomoea coccinea), which it's also sometimes called. 
It's easy to see the result of the cross of the two species when looking at their respective foliage. The leaves of Cardinal Climber are a combination of the needle-like leaves of Ipomoea quamoclit, and the full heart-shaped leaves of Ipomoea coccinea. 
Cardinal Climber is a fast grower, especially in hot weather! Expect at least 10' of growth, with some growing over 15' tall.
It's great at climbing all types of things such as trellises, houses, fences, and trees.
Ipomoea sloteri will form seeds in early fall, which can be harvested for planting next year. 
Care
Cardinal Climber Care
Ipomoea × multifida is typically grown as an outdoor plant, although it's sometimes grown as an indoor annual or a patio plant. 
Cardinal Climber loves full sun, and also thrives in partial shade. 
Fertilize as required, especially if planted in poor soil. It's best to fertilize Cardinal Climber with 1/2 strength fertilizer, as it's a light feeder.  Our slow release plant food is a great fertilizer for Cardinal Climber and many of our other plants!
Keep its soil moist, but not wet. Irrigate during establishment, and during periods of drought. 
Does best and grows fastest in humid conditions when the temperatures are above 80°F. Do not plant when soil temperatures are below 55°F. 
This is not a frost tolerant plant. 
Size
Size of Cardinal Climber for Sale Online
The Ipomoea sloteri that we sell online will ship in a greenhouse grade grow pot. Each plant will be appropriately sized for its pot. Please contact us with any specific questions.
Size of Cardinal Climber
 

When Fully Grown


Ipomoea sloteri typically grows to a mature length of between 10' to 15', and a width of around 12". 
Additional Information
Common Names of 
Ipomoea
sloteri
Cardinal Climber

Hearts and Honey Vine

Morning Glory

Cypress Vine
Toxicity and Risks of 
Cardinal Climber
Ipomoea sloteri is known for its toxicity to both people and to pets.
Vomiting, diarrhea, excessive salivation, abdominal pain, muscle and chest tightness, and numbness may occur after ingestion of this plant, especially its seeds. 
Additionally, the seeds are known to contain lysergic acid diethylamide (LSD), which may cause dilated pupils, drowsiness, and hallucinations.
Share
View full details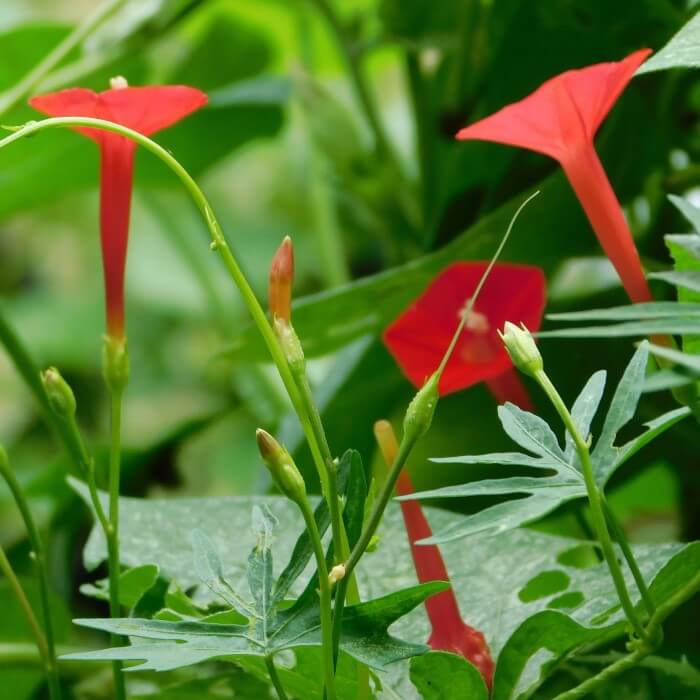 From Almanac, With Care...
The Almanac Planting Co Difference

We're a small, woman-owned startup with a deep focus on product quality and customer satisfaction. You can find off-site, third-party reviews about us on our Etsy store.
Shipping Details

Free shipping on orders over $199*! We normally only ship our live plants on Mondays, Tuesdays, and Wednesdays to help prevent weekend layovers. There is a processing period of up to three days on any order placed. Please check out our shipping policy or contact us with any other questions.
Phenomenal Product and Care
I was totally taken back by the quality and packaging care of my purchase. I would highly recommend Almanac Planting to anyone. Can not wait to see my Cardinal Climber in full bloom. Thanks to this company it had a head start when I planted.
Thank you for your review, Deborah!
Cardinal Flower
Delivery was fast! The packaging of the plants were protected well. They sat in the box for a day and the soil was stil moist when I opened it.
Thanks for your review, Sharon!
Best service and quality EVER!
Delivered fast and packed perfectly! You care about what you do and it shows! Thank you!!
Thanks for your review, Donna!