Regular price
$79.95
Sale price
$64.95
Unit price
per
Sale
Sold out
Prunus persica 'Bonfire'
SHIPPING RESTRICTION: In order for us to protect the environment and comply with regulations, we're unable to ship this product to the following states: AL, AR, CA, CO, ID, LA, MS, OR, SC, WA. 
Overview
Uses: A compact peach tree! Perfect for indoor and outdoor spaces, especially patios! 
Benefits: Gorgeous and fragrant pink flowers in the spring, followed by strikingly brilliant leaves with shades of red, burgundy, and green. Edible summertime fruit is perfect for making jams, pies, and jellies! 
Zones: 5 - 8 (as an outdoor perennial)
Sun: Full Sun
Life Cycle: Perennial
Mature Height: 5' - 6'
Mature Width: 4' - 6'
Bloom Season: Mid to Late Spring
Harvest Season: Late Summer into Early Fall
Summary
An explosion of color from spring through fall! 
This absolutely amazing and versatile peach tree is one of the best fruit producing houseplants, patio container trees, or outdoor fruit trees that we can think of. It will add a splash of color wherever it grows.
The magic starts in spring, when the tree becomes literally covered in bright pink, almost firework-like blooms! Soon after, phoenix red leaves start to appear, followed by shades of burgundy and green as the tree begins to produce fruit. The leaves turn shades of gold in the fall. 
This unique, compact peach tree has large, spear-shaped red-purple leaves that hold their brilliance throughout the summer.
Prunus persica 
produces a crop of small edible peaches in late summer that can be eaten fresh, but are best used in pies, jellies, and jams. 
Care
Bonfire Patio Peach Tree Care
Bonfire Patio Peach Tree likes full sun and moist soil.
Prune in late winter after the worst of the cold has passed, but before budding starts in the early spring. 
Bonfire patio peach trees must experience some prolonged cold in the winter, as vernalization is required for this plant. A month of cold exposure in an unheated garage is typically more than adequate. 
Size
What Size is your Bonfire Patio Peach Tree for Sale Online?
The 
Prunus persica
'Bonfire'
that we sell online will ship in a greenhouse grade grow pot. Each plant will be appropriately sized for its pot. Please 
contact us
 with any specific questions.
How Large Do Bonfire Patio Peach Trees Grow?
Prunus persica 'Bonfire' typically grows to a height of 5' to 6', and a width of 4' to 6'.
Additional Information

What is the botanical name of Bonfire Patio Peach Tree?
It's botanical name is Prunus persica 'Bonfire'.
Toxicity and Risks of Bonfire Patio Peach Tree
Parts of Prunus persica 'Bonfire' are known to contain cyanide in the leaves, stems, and seeds. This cyanide is especially prevalent during the process of wilting. As such, this plant can be extremely toxic if the wrong parts are ingested. Signs of poisoning include dilated pupils, heavy breathing, shock, and death. 
Share
View full details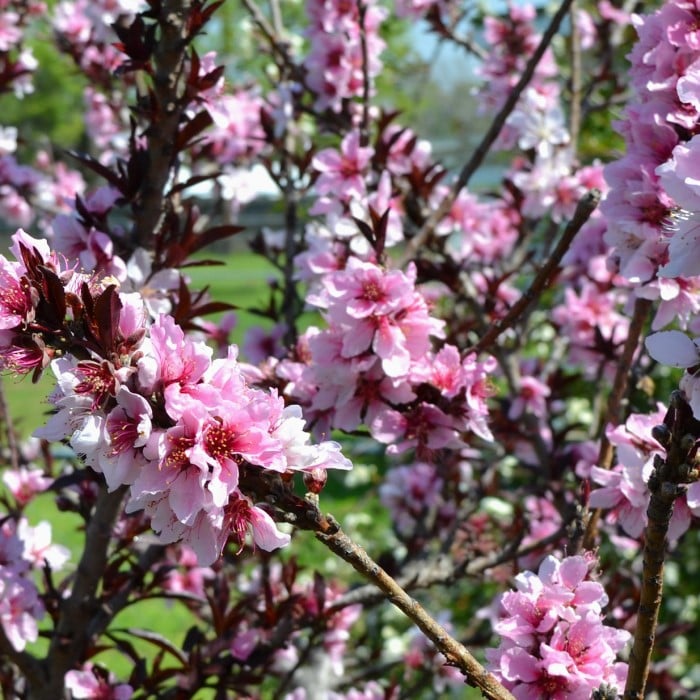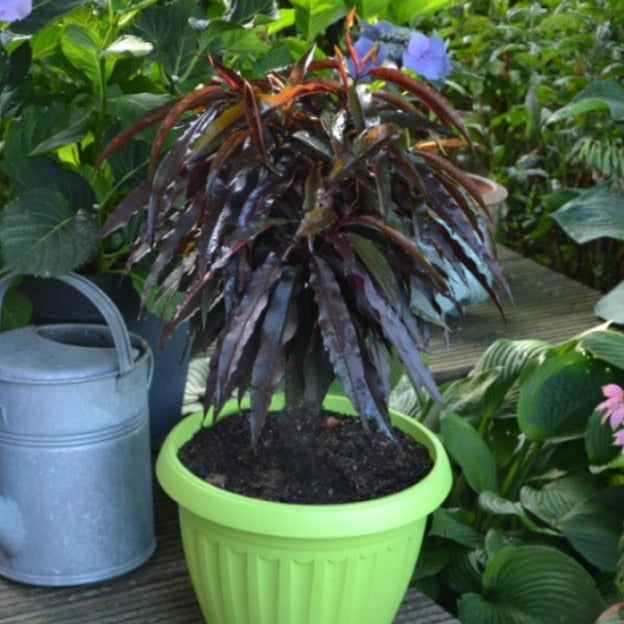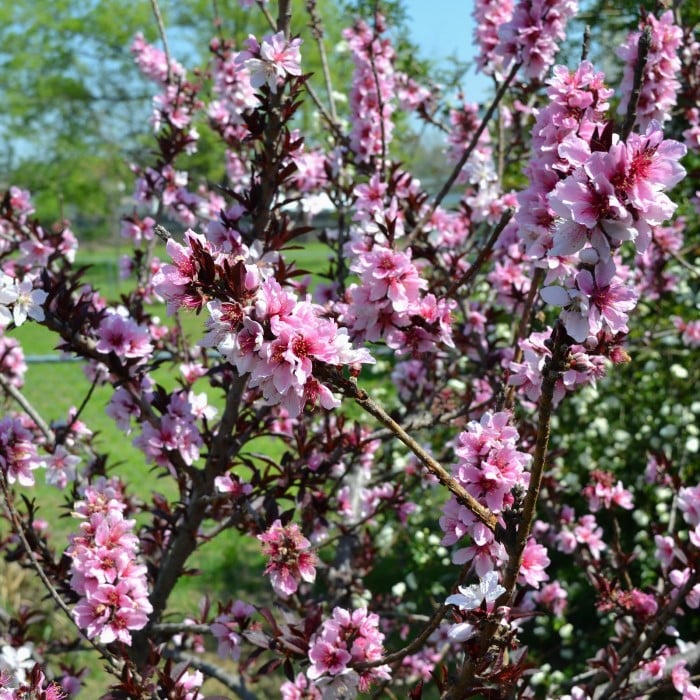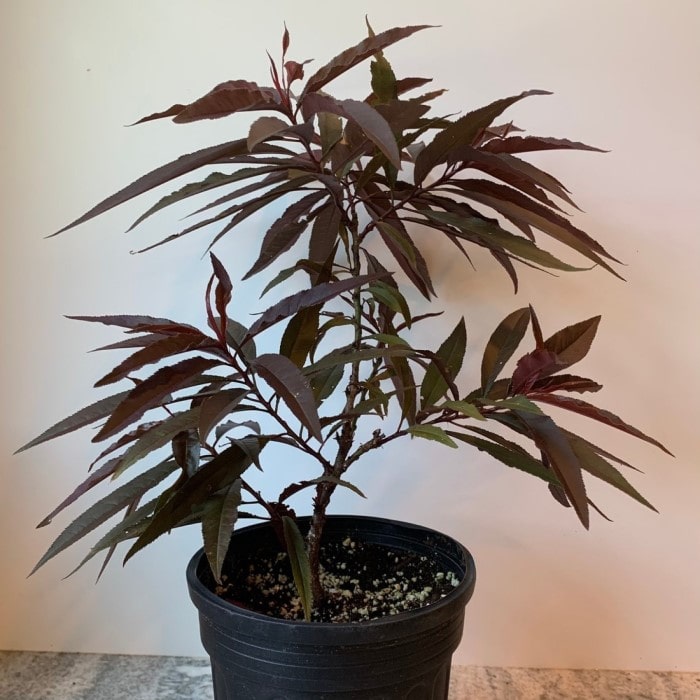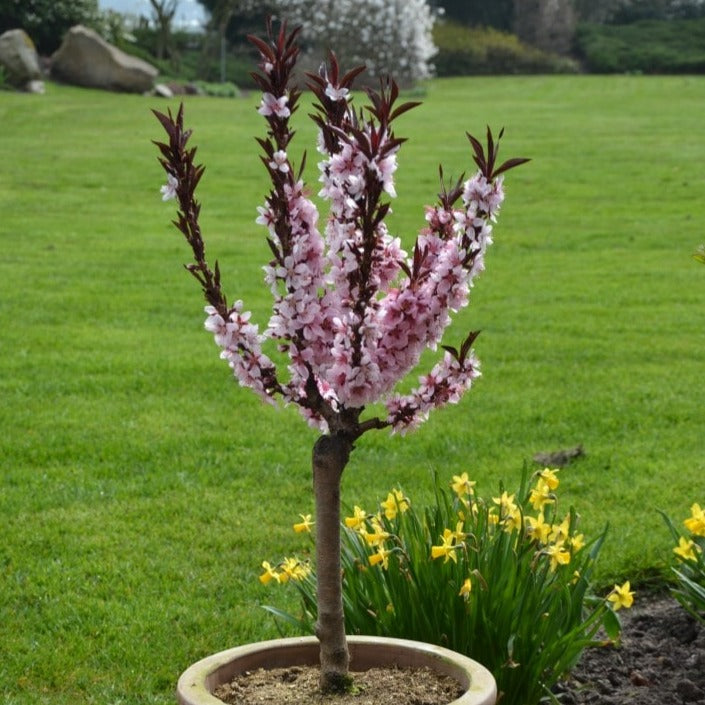 From Almanac, With Care...
The Almanac Planting Co Difference

We're a small, woman-owned startup with a deep focus on product quality and customer satisfaction. You can find off-site, third-party reviews about us on our Etsy store.
Shipping Details

Free shipping on orders over $199*! We normally only ship our live plants on Mondays, Tuesdays, and Wednesdays to help prevent weekend layovers. There is a processing period of up to three days on any order placed. Please check out our shipping policy or contact us with any other questions.