Regular price
Sale price
$9.95
Unit price
per
Sale
Sold out
Ageratum
houstonianum
 'Blue Horizon'
Overview
Uses: Annual flowering plant 
Benefits: Easy to take care of. Produces lavender to purplish-blue flowers that typically start in June and last until frost. 
Zones: 10 - 11 (Grown as an annual in colder zones)
Sun: Full
Life Cycle: Annual (perennial in zones 10 - 11)
Mature Height: 30"
Mature Width: 18"
Summary
Ageratum houstonianum 'Blue Horizon'—commonly known as Blue Horizon Floss Flower—is a medium size, frost-tender annual that's best known for its clusters of lovely, fluffy flowers which resemble asters. Flower production is typically constant from late-spring until mid-fall. 
'Blue Horizon' is a taller than average cultivar of Ageratum houstonianum, making it especially well suited for producing flowers that are great for use in freshly cut floral arrangements. 
Growing in a shapely mound, it produces larger flowers than traditional ageratums, which it supports via its strong, sturdy stems. 
Ageratums are known to attract various pollinators such as bees and butterflies. 
Perfect for a variety of areas, especially rock gardens, mid-borders, patios, and mixed containers. 
Care
Ageratum

Care

Ageratum houstonianum 'Blue Horizon' does best in full sun, although partial shade is also acceptable. The plant may benefit if very strong afternoon sun is blocked by a source of partial shade, especially in hot, dry areas. 

Plant after the last spring frost, ideally when temperatures are above 50°F.

Floss Flower requires soil that is moist, but not wet. Irrigate during establishment, and during periods of drought. Do not allow this plant's soil to completely dry! Avoid overhead watering to mitigate the risk of powdery mildew. 

Fertilize as required, especially if planted in poor soil. 

Does best in temperatures between 65°F and 95°F.

Although unnecessary, the deadheading of spent flowers will encourage blooming, and help to ensure a tidy plant. 
Size
Size of Amaranth for Sale Online
The Ageratum houstonianum 'Blue Horizon' that we sell online will ship in a greenhouse grade grow pot. Each plant will be appropriately sized for its pot. Please contact us with any specific questions.
Size of Amaranth
 

When Fully Grown


Ageratum houstonianum 'Blue Horizon' typically grows to a height of 30" and a width of 18". It sometimes grows as small as 6" wide and 12" tall. 
Additional Information
Common Names of Ageratum houstonianum 'Blue Horizon'
Ageratum

 'Blue Horizon'

Floss Flower 

'Blue Horizon'
Toxicity and Risks of Amaranth
All parts of Ageratum houstonianum 'Blue Horizon' are considered toxic if ingested. This is due to the fact that they contain pyrrolizidine alkaloids, which is known to cause liver lesions. 
Share
View full details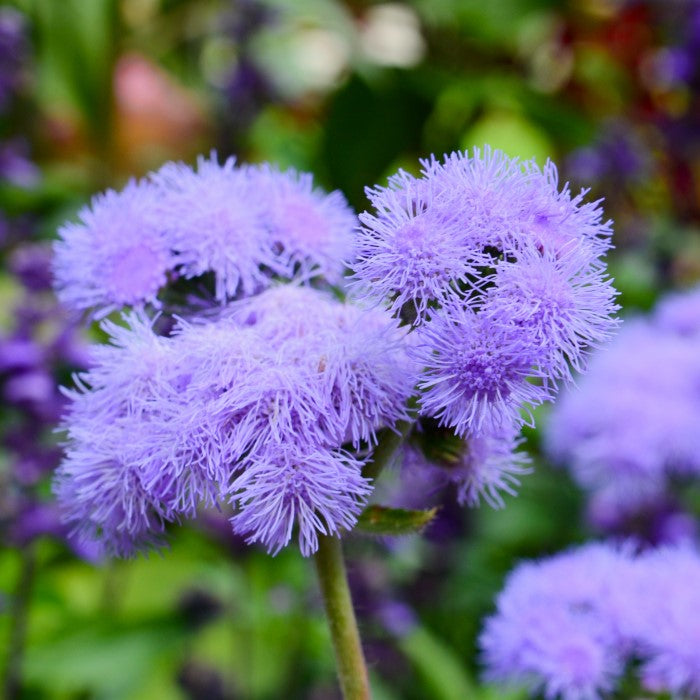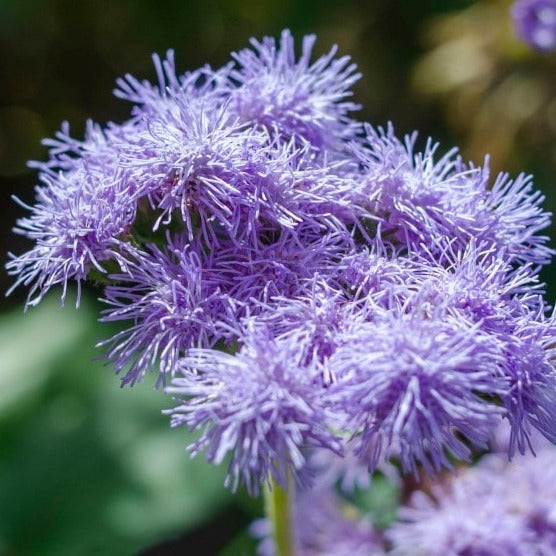 From Almanac, With Care...
The Almanac Planting Co Difference

We're a small, woman-owned startup with a deep focus on product quality and customer satisfaction. You can find off-site, third-party reviews about us on our Etsy store.
Shipping Details

Free shipping on orders over $199*! We normally only ship our live plants on Mondays, Tuesdays, and Wednesdays to help prevent weekend layovers. There is a processing period of up to three days on any order placed. Please check out our shipping policy or contact us with any other questions.
Well Grown
I start seeds inside every year. This year my husband put Preen where I planted the young blue horizon plants, and it killed several. When the replacement plants arrived from you I was amazed how wonderful and healthy they were. Mine were never this great looking. Well done!
Thanks for your kind words and great review, Dana!
Extremely impressed with this seller. Starter plant was firmly rooted and had about 6" of growth. I replanted and out outside, in 1 week, the plant grew another 4-5". Highly recommend.
Arrived in great condition, flourishing in our yard!